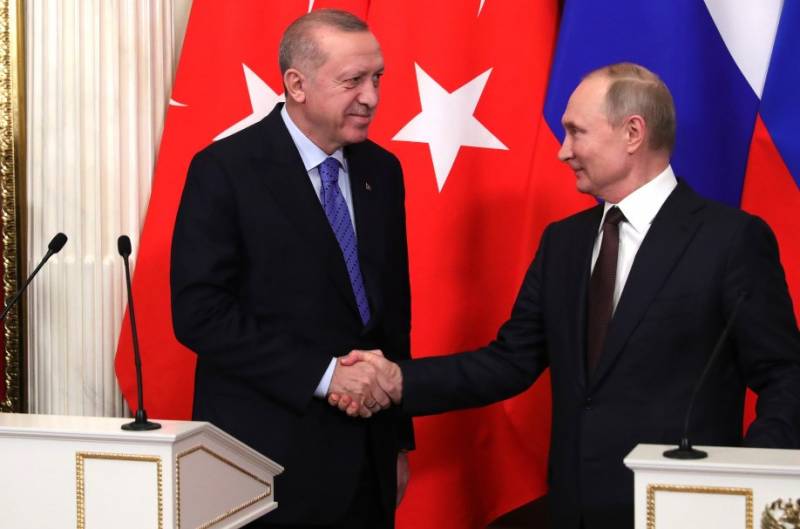 Turkey was counting on a quick victory in the Karabakh conflict, fighting with Armenia with the hands of Azerbaijan, but something went wrong. For the Kremlin, which must have calculated the possible development of events in the region, there shouldn't have been any surprises, but for some reason they did.
Stanislav Tarasov discusses this topic in an article published
A REGNUM
.
Baku and Ankara were preparing for war quite openly. Moscow reacted immediately to the aggravation of the situation in the Tovuz region this summer, preventing the escalation of border clashes into a full-fledged military conflict with its diplomatic efforts. Then Erdogan addressed Putin by phone, declaring his unconditional support for Baku and his desire to help Moscow in a peaceful settlement of the conflict. Among other things, it was a demonstration by the Turkish side that Azerbaijan is no longer in the Russian zone of influence.
In this situation, Putin managed to reaffirm his commitments to Armenia as a partner in the CSTO and not allow himself to be drawn into this conflict.
Russia has always had special ties with Armenia. But we have always had special ties with Azerbaijan. More than two million Armenians and about two million Azerbaijanis live in Russia.
- said the Russian president.
When the Karabakh conflict flared up in the fall, Putin clearly outlined his position on this issue, making it clear that Russia is ready, if necessary, to fulfill its allied obligations to Armenia, but it has no such obligations to Artsakh. That is why Azerbaijan does not dare to transfer military operations to the territory of Armenia.
But suddenly the United States made its move. Donald Trump's national security adviser Robert O'Brian said that Washington has already begun consultations on the deployment of an international peacekeeping contingent to Nagorno-Karabakh, without asking the consent of Baku and Yerevan. In addition, the US Congress began to talk about the possible official recognition by the United States of this unrecognized republic with all the ensuing consequences.
All this strongly resembles the Kosovo scenario. And if the West manages to implement it, then not only Turkey and Azerbaijan, but also Moscow may be the loser. After all, then the Russian influence on the South Caucasus will have to be forgotten for a long time.
Thus, Russia faced a difficult choice of its further strategy in this region.