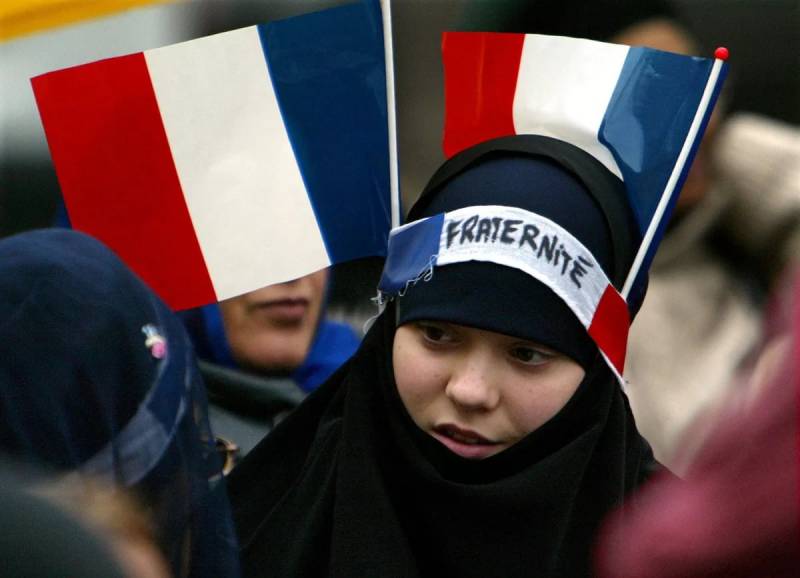 Talking about contemporary Islamic extremism has already become a good form in Europe. However, as well as respond to such reasoning in a rather harsh and even rude form. Some (for some reason, on behalf of the entire Christian world) talk about the incredible cruelty of the Islamists. Others (again on behalf of the entire Islamic world) speak of trampling on Muslim values ​​and responding to the persecution of Islam. Thank God, both those and others are still talking about the inadmissibility of murder as a means of fighting for their own faith.
I grew up in a land where respect for someone else's faith is established in early childhood. Where the well-known expression "they don't go to a strange monastery with their own charter" is a rule that everyone is obliged to observe. And most paradoxically, we grew up friends. Not fanatics, but simply friends, in whose heads all religions, all norms of behavior and holidays are intertwined. Respect others and they will respect you.
Came to visit a Tatar neighbor, become a Tatar. Came to visit an idolater hunter, become an idolater. Came to visit an Old Believer, become an Old Believer. Respect someone else's house! And no one even thought that our country is mostly Christian. We just lived like that and that's it.
Why Faith Issues Are So Relevant Today
The overwhelming majority of us today, I would call "conditionally believers." Christians who sometimes visit the temple more by tradition than by a desire to communicate with God. Muslims who remember their belonging to this religion on holidays. Both of them never read the Bible or the Koran, preferring to listen to their interpretation by a priest or imam. And such reading (I'm not talking about understanding the sacred texts) requires a lot of time. And we are in a hurry all the time ...
We "modernize" the sacred books to the level of "children's Bible" and "children's Koran". We turn the Holy Scriptures into a comic strip that everyone can understand. Why is this happening? Why does modern man believe in the modern version of religion? Why do events such as those that happened recently in France shock not only Christians but Muslims as well?
I think the question is about faith itself. Not specifically in Islam, Christianity, Judaism or any other creed, but in faith in general.
History
humanity is a story of faith. A person cannot live without faith as such. In different periods of human development, people believed in different gods, professed different religions, but there was no period when there was no such faith.
Some believed that there are many gods ruling humanity. Others - that the tribe saves the tribal totem from adversity. The third is that God is one. The fourth is that there is no God. I quite often hear the conversations of the latter. They are really convinced that they "don't believe." However, you read some of their standard agreement and often come across there such concepts as "force majeure circumstances", "force majeure", etc.
Ultimately, this is everyone's business. You do not like God, Allah, Buddha, Jehovah or someone else, believe in the Cosmic Mind, the Universal Brain, Rock, Fate, Circumstances or something else. After all, in the end it doesn't change anything. Exactly until the moment when you suddenly decide that your faith is more important than all others. That all people should live exactly as your God says, your personal faith.
Today humanity (that very "progressive", "democratic", "vanguard") has suddenly realized that the path it is following leads to a dead end. The Western world, with its tolerance, multiple sexes, freedom for any opinion, laws that violate the laws of nature, the severing of family ties and other "achievements" are gradually slipping into oblivion. He just disappears physically.
"Parent-one" and "parent-two" there can no longer give birth to "child-one"! And there are almost no dads and moms left. And those who remained live in constant fear of the fact that their son or daughter may at any time be taken away and given to these very "numbered" parents. It seems to me that one of the reasons why Europe allowed refugees from Asia and Africa to its territory is precisely the attempt to make society remember the natural distribution of "responsibilities" between the sexes.
Men "move progress", and women preserve these achievements and ensure the very existence of humanity as a species. But this is exactly what is written in most of the sacred books! This is what the Talmud, the Bible, the Koran are talking about! Even the restrictions imposed on believers by the holy books are designed to solve this very problem.
Why religious radicalism is popular today
I have already partially answered this question above. Radical youth are looking for answers to the same questions that interested us 30-40 years ago. To those very eternal questions of humanity. For all the seeming independence and advancement of modern young people, they are exactly the same as their fathers and mothers were at the same age. What were their grandparents.
Whatever we say about modern morals, clothing and morals, young men still dream of becoming strong men, and girls - mothers of beautiful and healthy children. Nature is above all the tinsel that humanity has invented. And it is nature that makes us be human.
And faith and religion are nothing more than a set of rules of nature that have been learned by humanity for centuries. Gradually, in small steps, people reduced their knowledge into teaching. Which became the basis of faith. This can explain the coincidences that are found in the religions of different nations. In parallel with this, people recorded their impressions of various events that took place on earth at different times. Let's remember the same global flood ...
Above I wrote that only a few can study old books on their own. That is why so much depends on teachers who help young people to understand the essence of religious books. And that is precisely why completely wild interpretations of divine teaching appear. Today, many centers are known where Islamic preachers are supposedly trained. In fact, the leaders of the extremist wing of Islam are being trained there. Everyone knows about it.
Religious radicalism is not invented by Muslims. There are radical movements in almost any religion. It's just that today most often civil wars, military operations of NATO and other countries (as well as the emergence of anti-government armed formations) occur in Islamic countries. And the refugees who have flooded Europe today are mostly Muslims. Hence the periodic conflicts with the radical Islamists.
Who is to blame for the deaths on religious grounds
It would seem that the answer to this question is obvious. - Those who cut off the heads of their opponents are to blame. Indeed, "the hand holding the knife" is to some extent to blame for the fact that the killer killed someone. Or "the finger that pulled the trigger of the pistol." How simple it would be if it were. Only in life everything is much more complicated.
It was not in vain that I began the article with recollections of my own religious education. In any religion, there are taboos, the violation of which is offensive to believers. Remember the anthropoid dance on the altar of the Orthodox Church? Remember your reaction to this? Now compare the reactions: yours and that of an ordinary believer to a caricature of Allah in a French magazine. But this is no less an insult to believers than satanic dancing on the altar!
Europeans are accustomed to the "type of tolerance". You can talk about anything and everything. But try to express your "fu" about gays and lesbians, same-sex marriages or juvenile justice? .. There are topics that cannot be discussed. In order not to offend the minority. And everyone is silent. Because the minority is aggressive. Because the minority is higher than the majority.
This French magazine scoffs at things sacred to many. It's not just religion. These are deaths in some kind of catastrophe. This is famine in some countries. These are the heads of state who clearly do not belong to the French provinces. Tell me, how were the Turks supposed to react to the caricature of Erdogan? Regardless of your political preferences?
What happened was what should have happened. A force has appeared that can ask for an insult! We've already seen how scary it can be. Have you seen! Let me remind those who have forgotten, January 7, 2015. Then it was in the editorial office of this very magazine that 12 people died and 11 were wounded. In total, 17 people throughout France became victims of these attacks.
And even earlier it was July 14, 2016, when in the same Nice on the Promenade des Anglais, 31-year-old Mohamed Lauege-Boulel killed 86 people by crashing into a crowd in a 19-ton truck. It was? It was!
So who is to blame for these deaths? The hand that held the knife, or the provocateurs who offend the feelings of millions of believers, including citizens of their own country? Who creates an atmosphere of horror and fear for their own lives in a European country? It is not scary that it can happen that the employees of the magazine will suffer again. The scary thing is that innocent people will suffer.
Continuation that shouldn't be
What is happening in France today is not just about the French. This applies to many countries, including Russia. Caricature of Allah is a terrible sin, from the point of view of any Muslim. A sin that cannot be forgiven. But even this is not the most dangerous thing.
Today, according to some sources, up to 10 million Muslims live in France. This is the largest diaspora in Europe. The events that are taking place now greatly affect this particular category of citizens. Islam is being radicalized. Islamists are beginning to be suspicious of those who practice Islam "slipshod". Does not strictly follow all the norms of the Koran.
However, exactly the same tendencies are taking place in other traditional religions. Friends who have become French say that for some time now they began to notice a tendency for the revival of many ancient Catholic or Jewish rites, which earlier in France were observed only by small castes of radical believers. It seems to me that such tendencies may well be considered prerequisites for religious disagreements in the future.
Be that as it may, the policy of encouraging blasphemy, desecrating sacred objects, violating ethical and religious norms in favor of imaginary freedom of speech will lead to a radicalization of society. To separation, including on religious grounds. Which is always fraught with bloody conflicts and even religious war.
While there is no war ... While it is still possible to stop ... Let's look at the actions of President Macron and the French government.