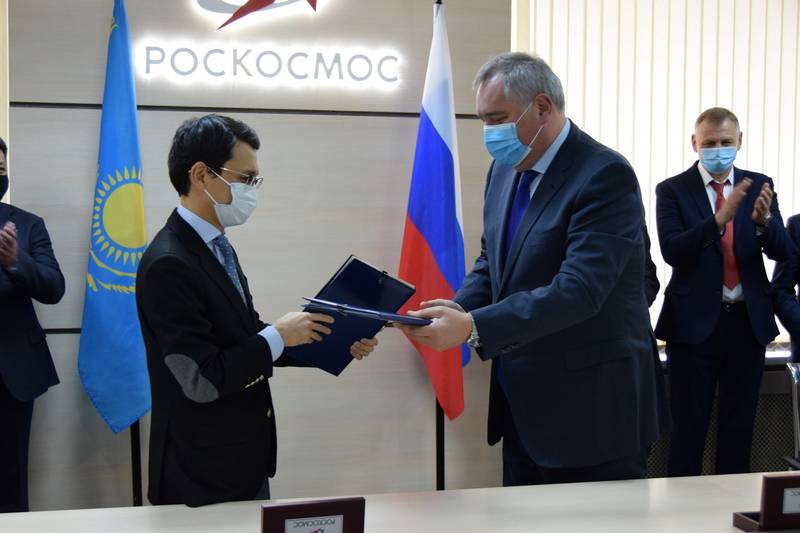 Russia and Kazakhstan have removed all existing differences and are starting to create the Baiterek space rocket complex at the Baikonur cosmodrome. This was reported by the press service of Roscosmos.
Reportedly, on Saturday, a protocol was signed in Moscow on amendments and additions to the intergovernmental agreement on the creation of the Baiterek space rocket complex at the Baikonur cosmodrome. The document was signed by Dmitry Rogozin, General Director of Roscosmos, and Bagdat Musin, Minister of Digital Development, Innovation and Aerospace Industry of Kazakhstan.
Thus, all previously existing disagreements between the parties were closed, and the Baiterek project entered the stage of practical implementation.
- said in a statement.
Roscosmos head Dmitry Rogozin explained that this agreement implies the construction of a launch complex at Baikonur for the new Russian Soyuz-5 launch vehicle.
If we simply explain the meaning of this event, then I will say this. First, there will be Baikonur! Secondly, this agreement opens the way for flight tests of the newest Russian missile system Soyuz-5, which is capable of creating fierce competition with our leading competitors.
- Rogozin said.
In addition to the main agreement, a contract was also signed for the provision of services for the creation of the Baiterek complex between the Center for the Operation of Ground Space Infrastructure Objects (part of Roskosmos) and the Baiterek Joint Kazakh-Russian Enterprise.
Within the framework of this project, Kazakhstan is responsible for the ground infrastructure, while Russia is responsible for the creation of Soyuz-5 and Soyuz-6 launch vehicles. The first launch from the renovated complex is scheduled for 2023.