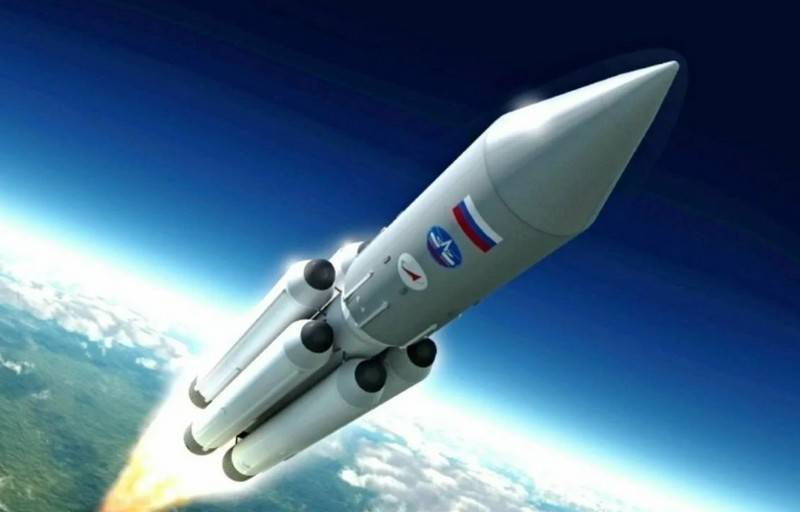 Russia has developed the concept of a new super-heavy launch vehicle for flights to the Moon and Mars. The new rocket was named "Leader", the press service of the State Missile Center named after Academician V.P. Makeev (GRC) said.
A concept has been developed for the creation of a number of super-heavy launch vehicles based on the Leader rocket - for circling the Moon, for implementing the lunar program and for missions to Mars
- TASS cites an excerpt from the GRTs documents.
In the basic version, the super-heavy rocket "Leader" will have two side blocks of the first stage with oxygen-kerosene engines RD-171M and a central block of the second stage with hydrogen engines RD-0120. The missile's warhead will include a booster block, an interorbital tug and a manned spacecraft "Eagle".
According to the developers, with a dead weight of 1143 tons, the new rocket will be able to launch 53 tons of load into a low reference orbit. The height of the carrier, together with the installed Orel spacecraft, will be 91 meters.
To support the lunar base, it is proposed to use a double rocket "Leader", i.e. it will consist of four side and two central blocks on the first and second stages, connected by power belts. With a total mass of 2284 tons, such a rocket will be able to lift 106 tons of load into space. It is specified that the "double" "Leader" will not be used in manned flights.
Accordingly, the Martian version of the rocket implies a bunch of three Leader rockets. Such a bundle will be able to launch up to 160 tons into space. It is also not planned to be used for manned flights.
It should be noted that the VP Makeyev State Missile Center JSC is the main developer of strategic missile systems. The complexes "Station-2", "Sineva", "Liner" and "Sarmat" were created in the GRC.