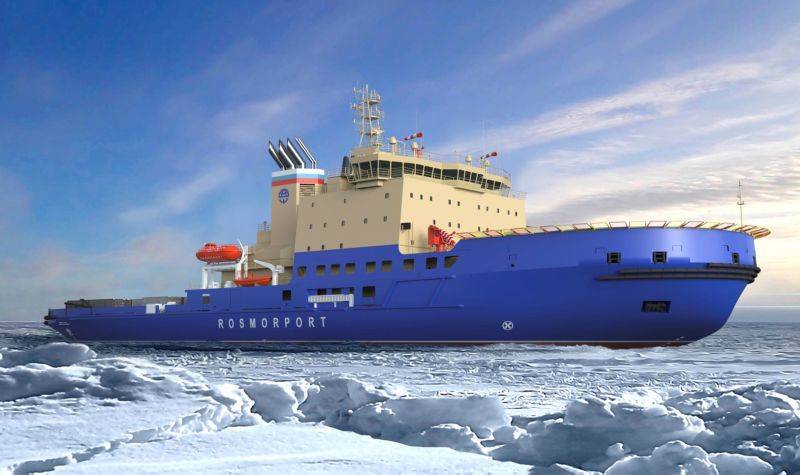 Linear diesel-electric icebreaker of project 21900M2 for FSUE "Rosmorport" was laid in Germany. According to the information and analytical agency PortNews, the laying ceremony of the icebreaker took place on October 29, 2020 at the German shipyard Pella Sietas in Hamburg.
Linear diesel-electric icebreaker of project 21900M2 with a capacity of 18 MW ice class Icebreaker7 will be built in Hamburg, at the Pella Sietas shipyard, controlled by the Russian Pella OJSC. The shipyard in Neuenfeld (Hamburg region), which existed since 1635, went bankrupt in 2014 and was acquired by the Russian Pella.
This shipyard has a dry dock that allows building vessels up to 180 meters long and up to 40 meters wide. Icebreaker project 21900M2 became the largest order in
stories
this German shipyard both in cost and in size.
The icebreaker will be built under a contract signed by Pella in September 2019 following an open tender. The Vyborg Shipyard, which had previously built three Project 21900M icebreakers for the North, did not participate in the competition. Most likely, Pella will also receive another contract for the second icebreaker of this project.
The new icebreaker is designed for year-round operation in the freezing seaports of the Far East. The commissioning of the vessel is scheduled for 2024.
According to the bmpd blog, the 21900M2 project has been developed on the basis of the 21900M project and the draft icebreaker design developed by Vympel Design Bureau, taking into account modern international convention requirements, including the reduction of harmful emissions from marine engines. The ice class of the new vessel has been increased to Icebreaker7.
Maximum length - 119,8 meters, maximum width - 27,5 meters, draft - 8,5 meters, speed - 17 knots, displacement - 14 tons, propeller power - 300 MW.