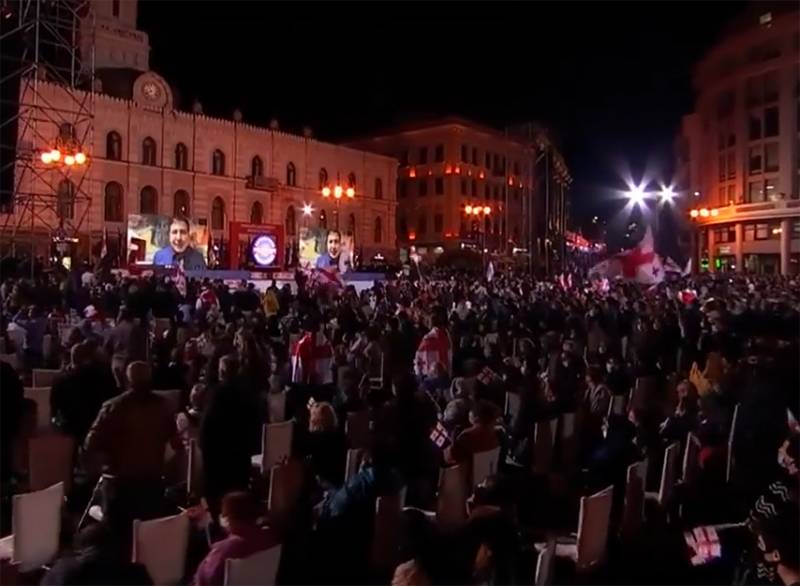 Former President of Georgia Mikhail Saakashvili said that he and his supporters are ready for revenge. He made such a statement before the elections to be held in Georgia on October 31.
Saakashvili made his appeal in a remote format, addressing from Kiev via video link to those who came to Freedom Square in Tbilisi. The motto of the action, which took place in the center of the Georgian capital, was the slogan "Farewell, Bidzina!" We are talking about Bidzina Ivanishvili, ex-Prime Minister of Georgia, leader of the currently ruling party "Georgian Dream - Democratic Georgia".
It is noteworthy that in Tbilisi, Saakashvili's speech was announced by Vakhtang Kikabidze, who is an ardent supporter of both Saakashvili himself and the party he represents - UNM (United National Movement).
Saakashvili via video link from Kiev:
Georgia is awake and ready to win. She is ready to become one of the best countries in the world, the coolest countries. Georgia today is not fighting for me or some other politician. She is fighting for a better life.
At the same time, Saakashvili also appealed to his political opponents, urging "to stretch out hands to each other and serve our country together."
Saakashvili:
But if there are election fraud, our response will be very harsh. Our response to falsification will be dignity, the seizure of power by supporters. Our path today is not the path of Ivanishvili, but the path of St. George. We are not born to be ragamuffins.
Political analysts are discussing Saakashvili's threat to seize power in Georgia if the voting results are falsified. It was noted that any result that would not be in favor of Saakashvili and his party, the UNM can be declared a falsification and against this background, try to arrange another coup in the country.