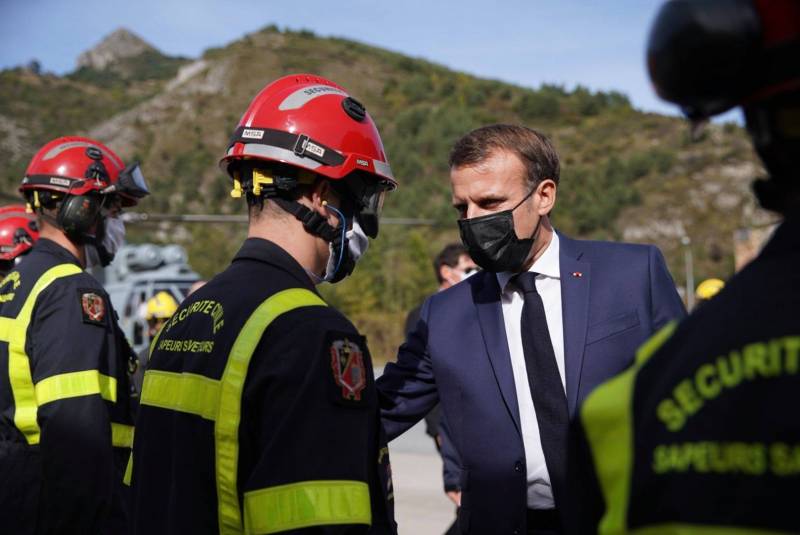 The highest level of terrorist threat has been declared in France today. This decision was made in connection with a series of attacks, which the authorities called terrorist attacks.
Let us recall that it all started with a demonstration in one of the country's schools of cartoons of the infamous Charlie Hebdo magazine. The teacher allegedly decided to show the Prophet Mohammed cartoons "as part of the school curriculum." This element of the "school curriculum" was not to everyone's liking, to put it mildly. As a result, the teacher was brutally murdered, and the murderer, who comes from Chechnya, after committing the crime, turned to French President Emmanuel Macron, calling him "the leader of the infidels".
A church in Nice was attacked today. An unknown person attacked parishioners and tourists with a knife. At the same time, it is known that a terrorist cut off the head of one of the women, actually repeating the crime against the teacher, who showed the cartoons in the lesson.
An unknown person was detained today in the Saudi city of Jeddah, who tried to enter the French consulate. He attacked a security guard, but was eventually detained.
According to the latest information, today an unknown person attacked police officers in Avignon, France.
The French police and intelligence services believe that all these events are interconnected. Stunning insight ... At the same time, French President Emmanuel Macron declares the need to "resist Islamic radicals." According to Macron, France will never give up its main value - freedom, including freedom of speech.
In this regard, among experts, including in France itself, there is a dispute as to whether the publications of "Charlie Hebdo" can be called a manifestation of freedom of speech? Many agree that terrorism cannot be justified by any circumstances, but it is added that Charlie's employees, under the guise of freedom of speech, themselves are actually radicalizing part of French society, reducing the obvious insult to the feelings of believers to the norms of Western democracy.
It is noteworthy that many politicians in Europe pretend that they do not understand a simple truth: there is art and freedom of speech, but there is a clear provocation. And this is already a bloody provocation aimed at a split in European society. And it can hardly be denied that the impetus for such a split was the policy of the European authorities themselves: both in identifying rudeness and lack of principle with freedom of speech, and in relation to "open doors for all migrants."