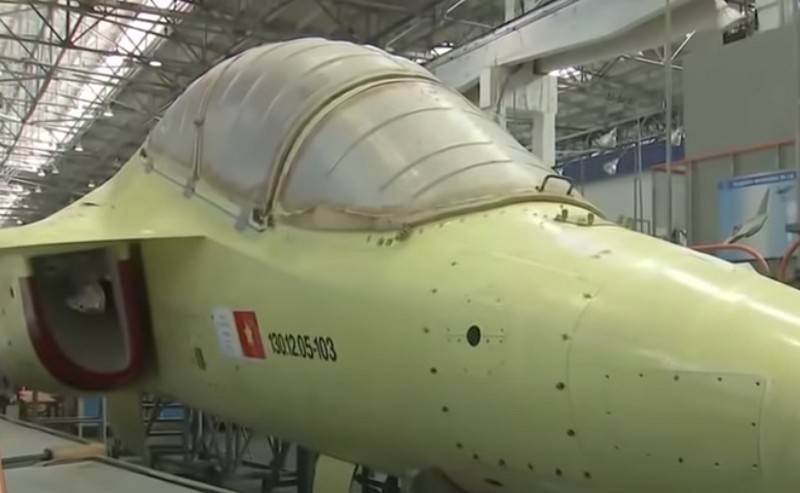 The assembly of a batch of Yak-130 combat training aircraft for the Vietnamese Air Force has begun at the Irkutsk Aviation Plant. A screenshot of the aircraft's fuselage being assembled appeared on the Web, taken during a visit to the enterprise by Russian Defense Minister Sergei Shoigu in August 2020.
As explained by the Vietnamese resource Baodatviet.vn, there is a Vietnamese flag on the Yak-130 fuselage, and the aircraft is marked with serial number 130.12.05-103, in which "05" is the buyer's code, "103" is the third in the production batch, "12" is the number of aircraft in the batch. Thus, it can be assumed that the assembly contains at least three Yak-130s for the Vietnamese Air Force.
Vietnam signed a contract for the purchase of a squadron of Yak-130 combat training aircraft in 2019. The volume of delivery will amount to at least 12 aircraft worth more than $ 350 million.
In the Vietnamese Air Force, the Yak-130 will replace the outdated L-39 aircraft made in Czechoslovakia, which Vietnam has been using since the 80s of the last century.
Presumably, the new aircraft will receive the 915th Training Aviation Regiment, which was formed the year before last on one of the
aviation
bases. The military unit also includes a training helicopter squadron equipped with Russian Mi-8 helicopters.
According to military experts, the purchase of Yak-130 aircraft opens up the possibility of supplying Vietnam with modern Russian Su-35 or Su-30SM fighters.
Vietnam will become the sixth country, apart from Russia, to adopt the Yak-130. This UBS is used in Algeria, Bangladesh, Belarus, Myanmar and Laos.
For our part, we note that the Yak-130 UBS was modernized by specialists from the Irkutsk Aviation Plant, taking into account the data received from Russian pilots during operation.