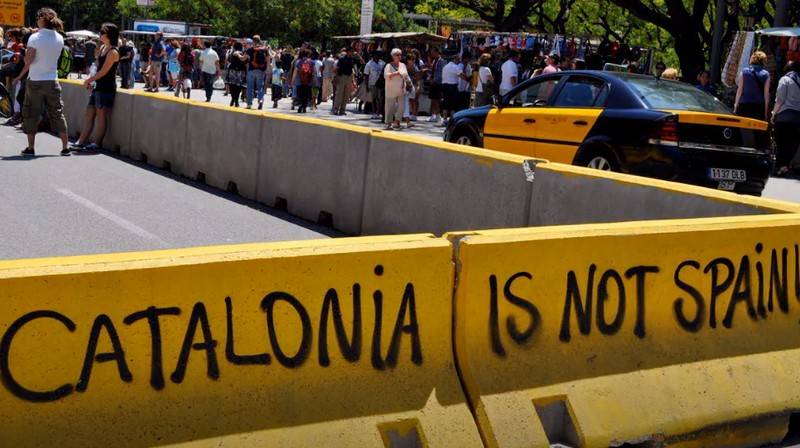 The Russian Embassy in Spain ridiculed the assertion of a "Russian trace" in the referendum on the separation of Catalonia from Spain. The diplomats ironically commented on the alleged readiness of Russian representatives to send 10 thousand Russian soldiers to help the separatists in Catalonia. Russian diplomats wrote about this on the diplomatic mission's Twitter account.
Russian diplomats reacted to the Spanish court's decision to issue search warrants in the case of the illegal referendum in Catalonia in 2017, based on wiretapping of the telephone conversations of a confidant of the former leader of Catalonia, Carles Puigdemont Victor Taradellas, who traveled to Russia. Allegedly, in a conversation with Puigdemont, Taradellans promised "the help of 10 thousand Russian soldiers" ready to defend independent Catalonia.
The information that appeared in the Spanish media about the arrival of 10 thousand Russian soldiers in Catalonia is incomplete. It is necessary to add two zeros to the number of soldiers, and the most striking thing about this conspiracy: the troops had to be transferred on the aircraft "Fly" and "Chato", collected in Catalonia during the Civil War and hidden in a safe place in the Catalan Sierra, before getting through these publishing an encrypted order to act
- said in the message of the Russian embassy.
Also, according to the Spanish court, the head of a certain organization "created during the Gorbachev era" was allegedly ready to pay the external debt of independent Catalonia, but Puigdemont did not agree to this.
Note that the High Court of Spain in 2019 began an investigation into the actions of employees of a division of the Main Directorate of the General Staff of the Russian Armed Forces (GRU) in the internal affairs of Catalonia. According to the court, Russia actively intervened in the affairs of Spain, preparing the separation of Catalonia.