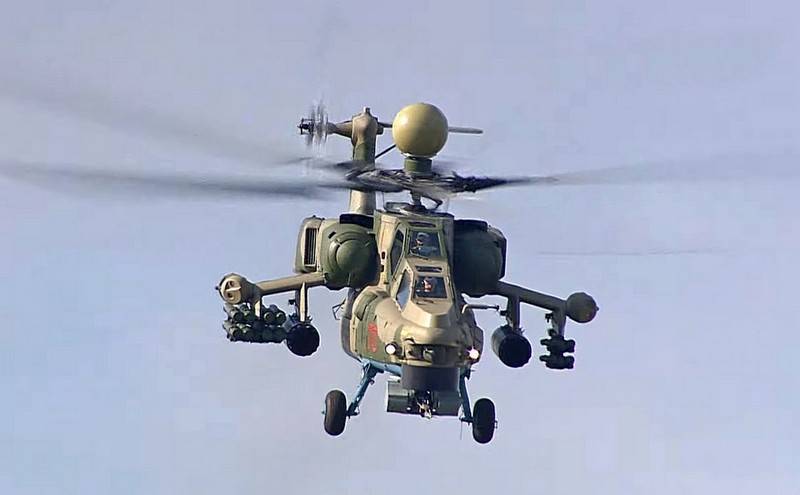 The Ministry of Defense continues testing the Mi-28NM, Mi-38T and Mi-26T2V helicopters. In the near future, the helicopters should be delivered to the State Center for Combat Use and Retraining of Flight Personnel of the Army
aviation
... This was told by the head of the Russian Aerospace Forces Army Aviation Igor Romanov in an interview with the newspaper of the military department "Krasnaya Zvezda".
According to Romanov, the tests of the new helicopters are proceeding according to the schedule, without disrupting the deadlines. Helicopters Mi-28NM (modernized "Night Hunter"), Mi-38T and Mi-26T2V received new equipment and have improved characteristics.
All three types of equipment are currently being tested in order to improve the combat capabilities of army aviation. The test program is proceeding according to schedule. (...) in the near future, these machines should go to the State Center for Combat Use and Retraining of Army Aviation Flight Personnel, to helicopter regiments and army aviation brigades
- he added.
Romanov stressed that the Ministry of Defense continues to re-equip with modern aviation technology. According to him, by the end of the year the Southern Military District will receive a batch of Ka-52 helicopters "with improved capabilities."
The Mi-28NM is a highly efficient all-weather attack helicopter of a new generation, designed to perform a wide range of missions. The machine was created taking into account the combat experience of using a helicopter in Syria. At the end of September this year, Andrey Boginsky, General Director of the Russian Helicopters holding, announced the start of serial production of the upgraded Mi-28NM helicopters.
The Mi-38T (Airborne) is the military version of the Mi-38. It is designed for round-the-clock airlifting of personnel of up to 40 people with disembarkation to unprepared sites, evacuation of the wounded (up to 12 people in a recumbent position and up to 30 in a seated position, accompanied by two paramedics), transportation of goods weighing up to five tons in a cargo compartment or on an external sling.
The upgraded Mi-26T2V helicopter differs from the base model Mi-26 in the presence of an integrated complex of onboard radio-electronic equipment, a digital flight system installed by the Vitebsk airborne defense complex. With a maximum take-off weight of up to 56 tons, the helicopter can lift 20 tons of cargo into the air, both inside the cabin and on the external sling. The Ministry of Defense intends to purchase at least 10 Mi-26T2V.