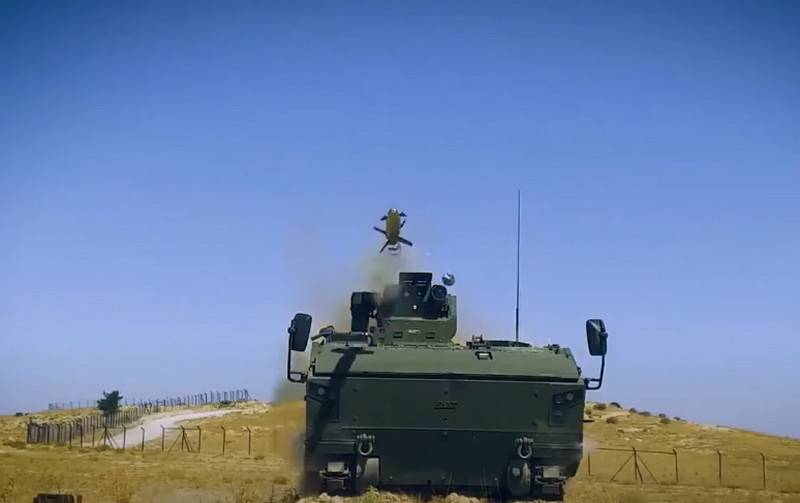 The Turkish Ministry of Defense posted on YouTube a video of the firing of the Kaplan-10 self-propelled anti-tank complex, which is armed with Russian Kornet-E missiles. The video was filmed during the "Ateş Serbest-2020" exercise, which began on October 22 this year.
The development by the Turkish company FNSS of the newest Kaplan self-propelled anti-tank complex equipped with the Russian Kornet anti-tank guided missiles (ATGM) was reported at the beginning of May last year. At the same time, the Turkish Ministry of Defense announced that the complex will enter the troops by the end of 2019.
This complex is part of a line of various types of ATGMs developed by FNSS and is supplied to the troops in two versions, differing in weapons: one is armed with the Russian Kornet ATGM, and the second - with the Turkish OMTAS missile. The complex was developed as part of the program for updating the fleet of Turkish self-propelled anti-tank weapons.
Until 2021, the country's armed forces will receive 260 units of the Kaplan SPTRK, while the exact number of vehicles with the Kornet ATGM is not named.
Meanwhile, the use of the Russian Kornet ATGM in Turkey is not an isolated one. All the same
armory
In 2018, FNSS introduced a new version of the wheeled armored vehicle Pars 4x4, made in the form of a self-propelled anti-tank missile system with a combat module with Russian 9M133-1 Kornet-E anti-tank missiles.
The large-scale exercise Ateş Serbest-2020 was launched by the Turkish Ministry of Defense on October 22 after the statement of support for Azerbaijan "in a just struggle for the liberation of the lands occupied by Armenia." The exercise uses new equipment, including the Fırtına self-propelled guns, Korkut air defense systems, Kargu kamikaze drones, OMTAS medium-range ATGM systems and Turkish-made assault rifles, a total of 37 military developments used for the first time.