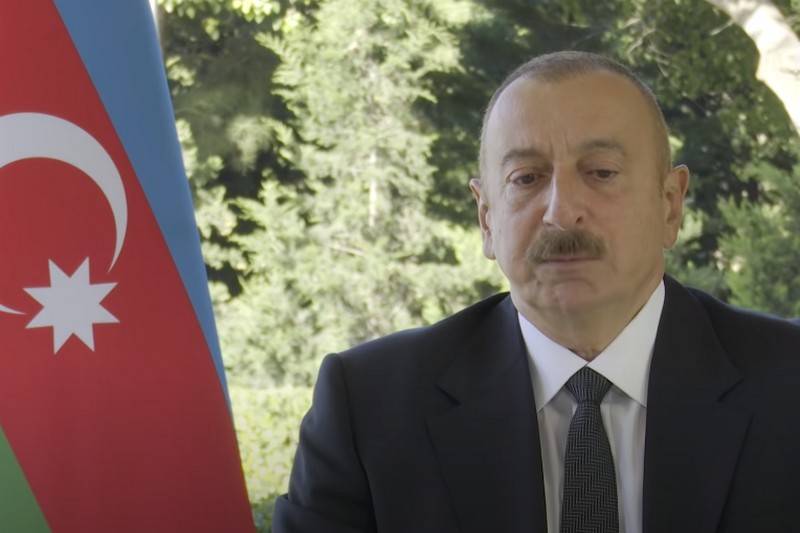 Russia periodically supplies weapons to the units of the Armenian army conducting military operations in the territory of Nagorno-Karabakh. Deliveries are made from the Russian military base in Gyumri. This was stated by President of Azerbaijan Ilham Aliyev in an interview with the Italian TV channel Rai 1.
Answering the questions of Italian journalists, Aliyev explained that all statements that the Turkish army is participating in the hostilities in Karabakh are a lie, since "there is no evidence for this." The same applies to the Turkish F-16 fighters, which flew in to participate in joint exercises on the eve of the conflict and are now on the ground without flying.
He stressed that there are "100 thousand fighters" in the Azerbaijani regular army, and if necessary, a general mobilization will be announced.
At the same time, Aliyev accused the Russian military base in Gyumri of supplying arms to Armenia, since "there are facts", but "there are no facts" about Turkey.
We do not say how many Russian MiG-29s, Su-30s are on the territory of Armenia. We are not talking about the fact that XNUMX Russian troops are located at the base in Armenia in Gyumri - and, according to our data, supplies to the Armenian armed forces periodically come from there, and these are facts, in contrast to what is said about us
- he said.
In his words, Armenia would not have survived without outside help, without Russian
weapons
.
(...) today, without outside help, Armenia could not have stood in the occupied territories for a single day. Both political, military and moral support comes from countries that must adhere to neutrality
- he added.
Earlier in Yerevan, they said that mercenaries from Syria, transferred to Nagorno-Karabakh by Turkey, are fighting on the side of the Azerbaijani army. It was also reported about the use of Turkish F-16s in Nagorno-Karabakh. Earlier, Baku generally denied the presence of Turkish aircraft on its territory, but after the appearance of satellite images, they stated that the aircraft were left by the Turks "for moral support."