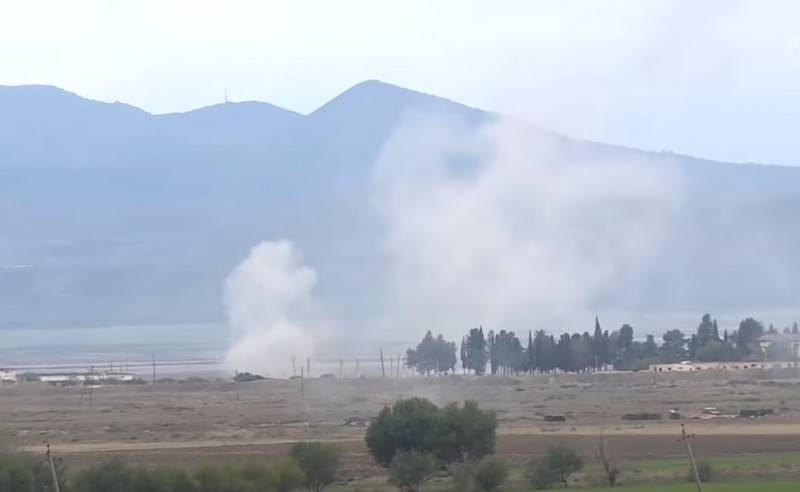 The Armenian Border Force launched a preemptive strike on the units of the Azerbaijani Armed Forces on the southern border in response to shelling of Armenian territory. The Ministry of Defense of Armenia reports this.
In order to suppress the claims of the Azerbaijani side in the southern direction of the state border of the Republic of Armenia, the border forces took appropriate actions, causing significant damage and losses to the enemy.
- said the press secretary of the defense minister Shushan Stepanyan, adding that the enemy uses drones in this section of the border.
Earlier, the Armenian military department accused the Azerbaijani military of shelling the southern border of the country, which led to injuries. According to the Armenian side, in the morning of October 27, the Azerbaijani military launched a series of attacks on the positions of the border outpost at the border with Iran. At the same time, it was argued that the enemy was using shock drones, as well as "rocket and artillery weapons."
This morning, from 10:00 to 10:15, the Azerbaijani side, once again violating the ceasefire, fired from drones (one of which fell on the territory of Armenia) and rocket artillery weapons at the position of the border outpost on the southern border with Iran, there are wounded
- the message said.
Baku denied the accusations of Armenia, claiming as disinformation and provocation of the message about the strike on the Armenian border outpost on the border with Iran, in turn accusing Armenia of shelling the Azerbaijani territory with mortars.
The information disseminated by Armenia about the alleged shelling of its territory with the use of UAVs and missile and artillery weapons belonging to Azerbaijan is a lie and is provocative in nature. Azerbaijan fully complies with the new humanitarian ceasefire regime. On the contrary, on October 27, starting at 09.30 (08.30 Moscow time) and up to the present time, the Armenian side subjected our territories to intensive mortar shelling in the direction of the village of Agbend, Zangilan region
- stated in the press service of the Ministry of Defense of the Republic.
Note that the parties are currently "observing" the humanitarian ceasefire, already the third in a row, and concluded with the mediation of the United States.