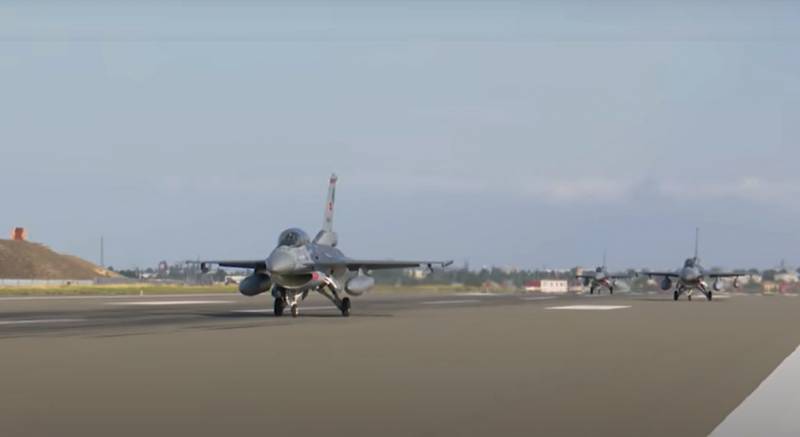 After yesterday's revelations of Azerbaijani President Ilham Aliyev about the presence of F-16 fighters of the Turkish Air Force in the country as "fraternal support from Ankara" in the West, materials came out that Aliyev "had to admit the obvious." Recall that initially the Azerbaijani leader stated that there are no Turkish F-16s in Azerbaijan at the moment.
Now it turned out that they remained there after conducting joint exercises, which was initially reported in the press.
Meanwhile, information appeared on the network that the fighters of the Turkish Air Force were transferred to another base in Azerbaijan. The fact is that initially they were located at the airfield in Ganja, but this airfield turned into one of the main targets for the army of Nagorno-Karabakh. So that the planes were not destroyed, they were relocated to the Gabala airfield - away from the front line.
The American press notes that six F-16 fighters of the Turkish Air Force are currently deployed in Gabala.
Photo evidence provided by Maxar Technologies - satellite photo. They were posted on Twitter on the page of military analyst Leonid Nersisyan:
Turkish F-16 were found by Maxar Technologies at Azerbaijani Gabala Airbase during the last week. According to Maxar, 6 fighters were located there. #Azerbaijan #Turkey #NagornoKarabakh #Armenia #Artsakh pic.twitter.com/8ZuUs8QsPd

- Leonid Nersisyan (@ nersmail1) October 25, 2020
At the same time, users doubted that the picture was authentically F-16 fighters.
Earlier, the Armenian side claimed that during the conflict, F-16s were used to strike at the Armenian Su-25 attack aircraft. Then it was announced that the Su-25 was shot down. However, this information has not yet found documentary evidence.
Aliyev claims that Turkish Air Force fighters were not used during the armed conflict in Karabakh. According to him, they can be applied in case of "third party intervention." Who exactly "by the third party" the President of Azerbaijan means, he did not specify.