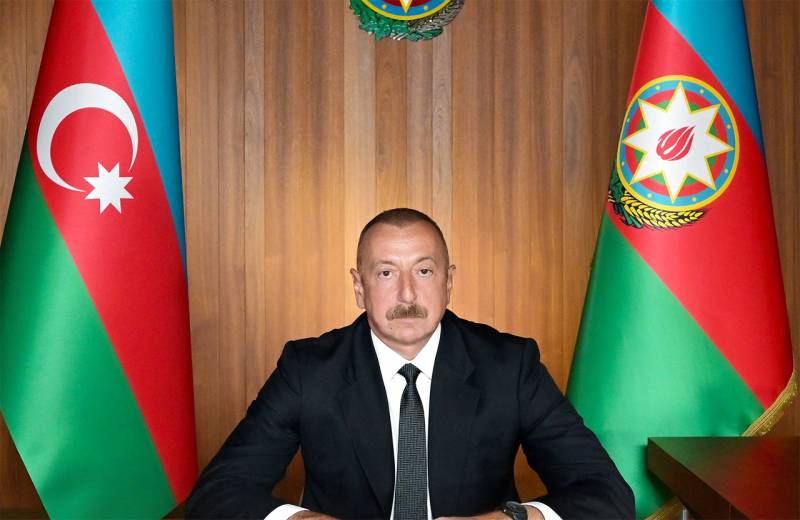 Baku does not exclude the possibility of using Turkish F-16 fighters located in Azerbaijan. According to the country's President Ilham Aliyev, Turkish fighters will be used in case of external aggression against the republic.
Aliyev in his address to the nation said that Turkish F-16 fighters are on the territory of Azerbaijan for "moral support". According to him, they flew in to participate in the exercises and stayed because of the war. At the same time, he stressed that the planes are on the ground and do not take part in hostilities. The only reason for the decision to use the F-16 will be "external aggression" against Azerbaijan.
I am often asked: what are the Turkish F-16s doing here? I'm tired of answering. If you have satellites, then look to make sure they are on the ground and not in the sky. They came here to participate in the exercises and stayed here when the war broke out. Our Turkish brothers left them for moral support to us. But if there is external aggression against us, they will see these F-16
- quote Aliyev's words to AzTV.
Meanwhile, the Armenian Defense Ministry reported on another violation of the ceasefire by Baku and an attempt by the Azerbaijani Armed Forces to carry out an offensive in the southeastern direction in Karabakh and shelling positions from the Smerch MLRS.
Despite a new ceasefire agreement reached in the United States, Azerbaijani forces attempted to attack the front line of one of the military units located in the southeast direction, continuing to shell civilian settlements. In particular, at about 13:50 the enemy fired a volley fire from the Smerch MLRS towards the Zardarashen village of the Martuni region
- reads the message of the Armenian military department.
The Defense Ministry of the unrecognized NKR reported that the "Artsakh Defense Army" is conducting defensive battles to suppress enemy attacks and push them back to their original positions.
Earlier, the parties concluded another humanitarian truce mediated by the United States.