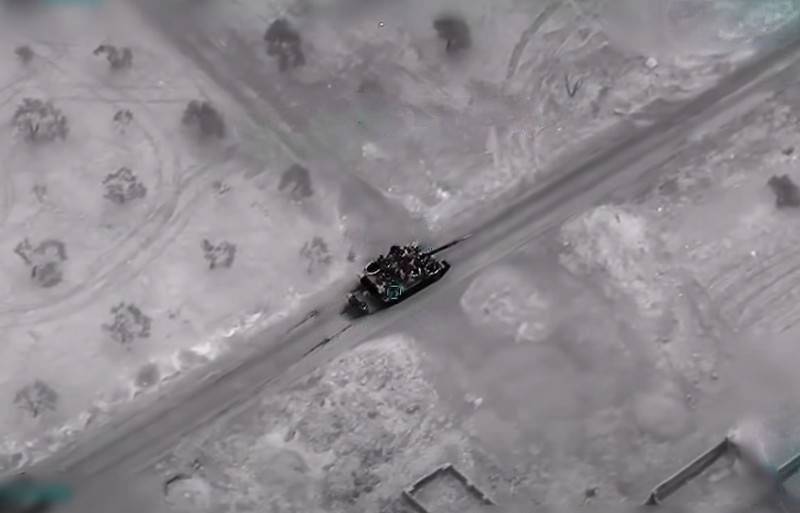 In modern wars
Tanks
and artillery has become an excellent target for cheap, but high-tech drones, it is becoming increasingly difficult to protect them. However, as Jorn Mikkelsen writes for the Danish edition of Jyllands-Posten, it is premature to abandon tanks. So who will win the wars of the future: a tank or a UAV, they are trying to find out in the Western press.
Recent military conflicts have shown that it is becoming more and more difficult to protect tanks from attack drones. If earlier drones were used only by developed countries, then soon they will be available to everyone without exception. Cheap and easy to operate, they are capable of destroying expensive and high-tech equipment on the ground.
As an example, the author cites the military conflict in Nagorno-Karabakh, where widespread videos show how tanks are destroyed with the help of drones. The fighting showed that in most cases drones destroyed enemy armored vehicles.
If the radar systems and the air force are removed from the game, tanks and other armored vehicles can be easily destroyed using drones. They are simply not designed for attacks from above, but are prepared mainly for strikes to the side of the hull.
- said Andreas Groe, Associate Professor of the Department of Military Technologies of the Defense Academy.
The armies of many countries, including the United States and Great Britain, amid the emergence of high-tech weapons such as drones, are considering options for a significant reduction in the tank fleet or a complete abandonment of their use. The Dutch army practically abandoned tanks altogether. It is believed that in modern wars, the tank will play a secondary role.
Nevertheless, most military consider the tank to be still powerful and flexible.
weapons
, which is too early to write off. According to experts, due to the threat of drones, the tank needs to be used differently, providing them with protection from air attacks.
In no way do I believe that tanks and other heavy weapons were destroyed by drones. But they changed our view of air defense.
- said Major Carsten Marrup from the Defense Academy.