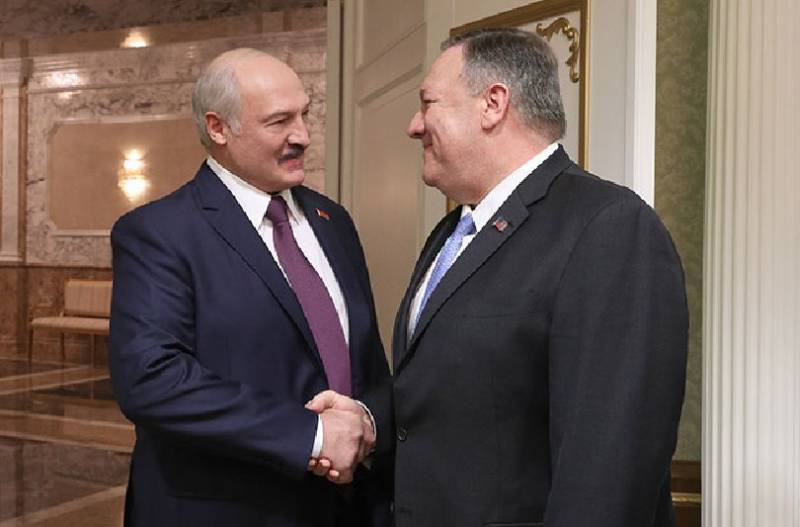 Belarusian President Alexander Lukashenko and US Secretary of State Mike Pompeo spoke by phone yesterday. The conversation took place at the initiative of the United States.
This was reported by the press service of the President of Belarus.
Among the topics discussed by the interlocutors were the situation in Belarus, the United States and the world, Russian-Belarusian relations, as well as Minsk's reaction to external threats. Their communication lasted for about half an hour.
Lukashenko and Pompeo agreed that significant changes have taken place in the world since the last visit of the American Secretary of State to Belarus, which took place in February. Since then, according to the interlocutors, many new challenges have arisen.
The conversation also touched upon the internal situation in Belarus and the United States. Mike Pompeo said that he has always been a supporter of the sovereignty of Belarus and the development of American-Belarusian relations.
In the conversation, Lukashenko called Russia the main ally of the Belarusian state. He expressed confidence that in the event of an external threat from Poland, Lithuania or other countries, Moscow and Minsk, bound by a common CSTO agreement, would react together. In response, Pompeo assured Lukashenko that there is no threat to Belarus from NATO, Poland and Lithuania.
The rally scheduled for today in support of the current Belarusian president, organized by the Organization of Trade Unions of Belarus, will not take place. Although Minsk has already begun to install the stage for the event, it was decided to cancel it. Lukashenka recommended doing this, fearing for the safety of the protesters:
I'm not afraid, but I'm worried. One explosion somewhere in the crowd, and people will start pressing.
There is no talk of canceling the opposition protest action scheduled for today. It was announced in connection with the expiration of the so-called "ultimatum of Tikhanovskaya," in which she demanded the resignation of the current president of Belarus.