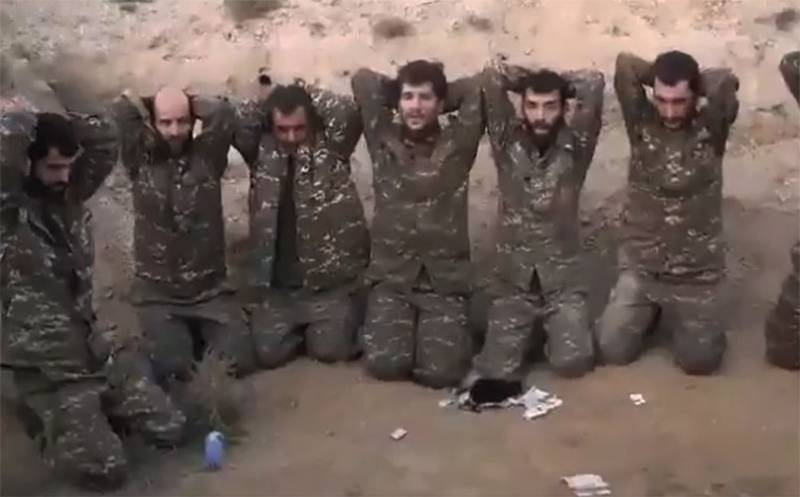 The humanitarian situation in the area of ​​the armed conflict in Nagorno-Karabakh continues to deteriorate.
Due to the violation by both sides of the conflict of the agreements on the humanitarian truce reached in Moscow, the exchange of prisoners and bodies of the dead has not yet been carried out. It is important to note that the Azerbaijani side distributes footage with prisoners much more often than the Armenian side.
Videos showing Armenian (Nagorno-Karabakh) prisoners of war are discussed online. Azerbaijani officers decide to influence the prisoners in a peculiar psychological way, forcing them to repeat the same phrase "Karabakh - Azerbaijan".
Footage of captured Armenian (Nagorno-Karabakh) servicemen pic.twitter.com/6DqEqYGhyY

- Volodin-Topwar (@VolodinTopwar) October 25, 2020
Other footage shows that the prisoners of war were brought to their knees and again forced to repeat the above phrase.
The Azerbaijani side demonstrates the Armenian prisoners of war knelt down. Shouts "Karabakh - Azerbaijan" pic.twitter.com/Icig3TGIlQ

- Volodin-Topwar (@VolodinTopwar) October 25, 2020
Measures of physical influence are not yet discussed - at least in front of cameras, the use of such measures is not shown.
In the Azerbaijani segment of social networks, these actions with prisoners caused delight, but not everyone. From comments:
And where is their heroism?
Heroism has disappeared somewhere
In a number of cases, it was noted that the Azerbaijani military should not humiliate the prisoners, as these are ordinary soldiers who followed the orders of their command.
It should be reminded that in the course of a new round of hostilities in Nagorno-Karabakh, the sides also resort to active propaganda measures. In particular, every day, both sides declare their "victories and heroic actions." At the same time, losses continue to grow, and the battles themselves have entered a protracted phase.