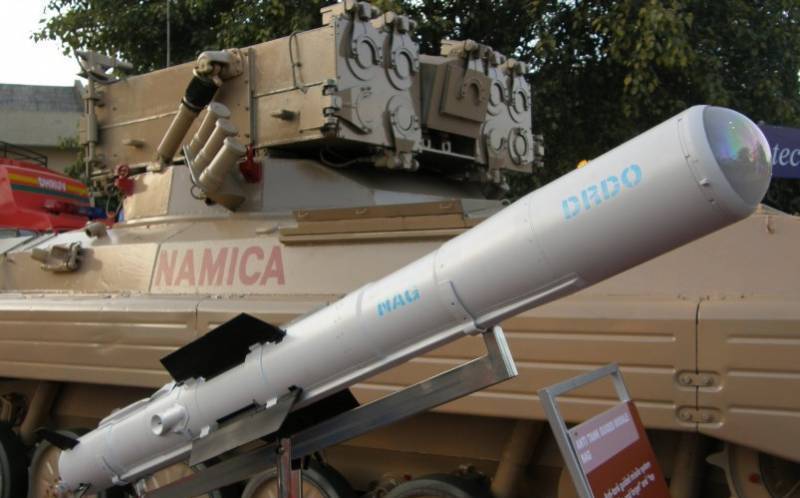 The Indian military has completed military tests of its own design Nag anti-tank guided missile. According to the Indian Ministry of Defense, the third-generation missile is ready for service.
According to the report, the final stage of testing took place on October 22, 2020 at the proving ground in Pohrana State of Rajasthan and was considered successful. A missile with a warhead was launched by
tank
from a regular mobile complex called Namica. The ammunition hit its intended target with high accuracy. Other details of the tests were not reported.
The NAG fired-and-forget missile is said to be designed to destroy heavily armored enemy vehicles in all weather conditions and at any time of the day. Its minimum range is 500 meters. The maximum range of fire reaches 4 km, "even in the harsh summer conditions of the desert, which is unique in its class", as stated in the Indian Ministry of Defense.
Final user trial of 3rd generation Anti Tank Guided Missile (ATGM) NAG was carried out today on 22 Oct 2020 at 0645 hrs from Pokhran range. The missile was integrated with the actual warhead and a tank target was kept at designated range. pic.twitter.com/GZ4oJWyNWs

- DRDO (@DRDO_India) October 22, 2020
The missile can hit a target both with direct fire and with an attack from above.
The development of the Nag has been carried out by the Defense Research and Development Organization of India since the second half of the 1980s. The munition homing system uses a high-definition thermal imager, completely developed and manufactured in India.
The main carrier of the new Namica complex will be a mobile platform created on the basis of the Sarath infantry fighting vehicle (licensed version of the BMP-2). The complex can carry up to six missiles.