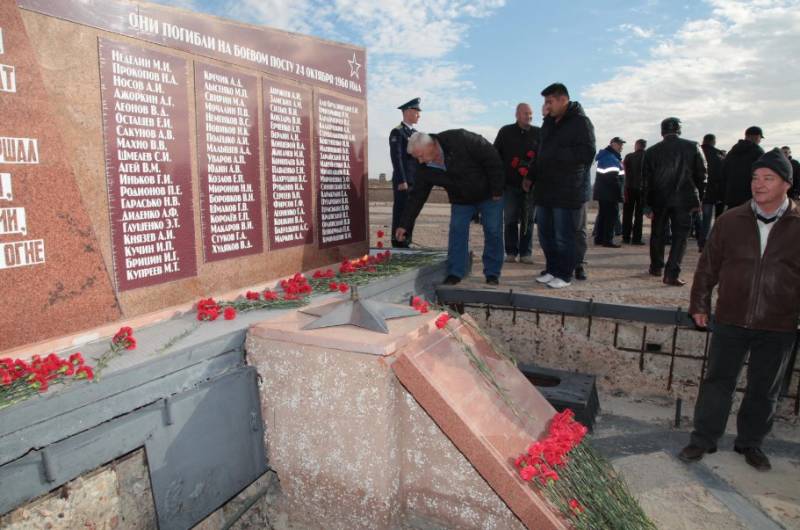 In 1999, the command of the Strategic Missile Forces issued an order establishing the Day of Remembrance of the Rocketmen. The date of October 24 was chosen for him.
On this day in 1960 at the Baikonur cosmodrome, the worst and largest disaster occurred in
stories
rocket technology. The tragedy occurred during the tests of the new R-16 ballistic missile. Unjustified haste and a series of safety violations led to the accidental start of the second stage engine of the rocket. At this time, she was at the launch site. There were about 250 people near the rocket, half of whom were not involved in test work.
The burning rocket fuel as a result of the leak destroyed everything within a radius of more than one hundred meters from the rocket, including the testers of the new rocket, who burned to death. According to official information, the exact death toll is not known and ranges from 78 to 126 people.
On the same day, October 24, but three years later, another catastrophe occurred at Baikonur, resulting in the death of people. This time in 1963, eight people died.
This day, on which, by a tragic coincidence, two major disasters in the rocket and space industry occurred, has since become the Day of Remembrance of the Rocket Engineers.
Memorial meetings are held annually on October 24 at the Baikonur cosmodrome. There are no rocket launches on this day. Memorial events are held near the mass grave of the rocket technology testers, flowers are laid. Employees of the rocket and space industry, its veterans, relatives of the victims come here to honor their memory.
The editorial board of Voenniy Obozreniye would like to express gratitude to all the testers of rocket and space technology who gave their lives doing their duty to the Motherland. Low bow to them and eternal memory.