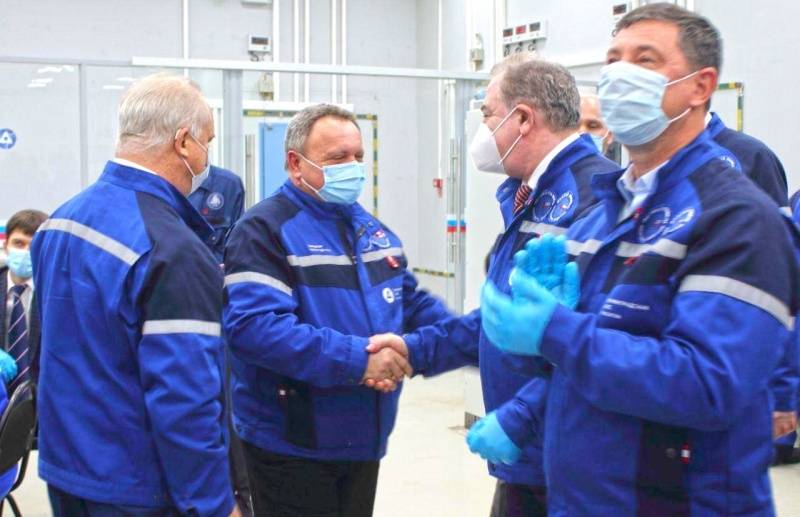 Launched at the end of August this year, the nuclear reactor of the new power unit No. 2 (according to another classification - unit No. 6 of the Leningrad NPP) of the Leningrad NPP-2 began operation and delivered the first kilowatt-hours to the Russian power system. This was reported by the communications department of the Rosenergoatom concern.
The first power-up of the new power unit took place today, Friday, October 23, 2020. After synchronization with the grid, the power unit produced a capacity of 240 MW.
The first power-up of a power unit with a VVER-1200 reactor took place. The new power unit was synchronized with the grid and reached a capacity of 240 MW
- said in a statement.
On August 31 of this year, the new reactor facility was for the first time brought to the minimum-controlled power level, after which a number of experiments were carried out, which showed the reliable operation of the reactor.
The new power unit will go through the stage of experimental-industrial operation, after which it will be shut down to carry out an audit of the equipment and put it into commercial operation after being checked by the state commission. Commissioning of power unit No. 6 of VVER-1200 into commercial operation is scheduled for 2021.
The Leningrad NPP is the largest in Russia in terms of the total installed electrical power (4200 MW) and the only one with two types of reactors (4 power units): RBMK-1000 power units, developed in the Soviet Union and a modern generation VVER-1200 power unit. LNPP generates 30% of all electricity in the North-West of Russia.