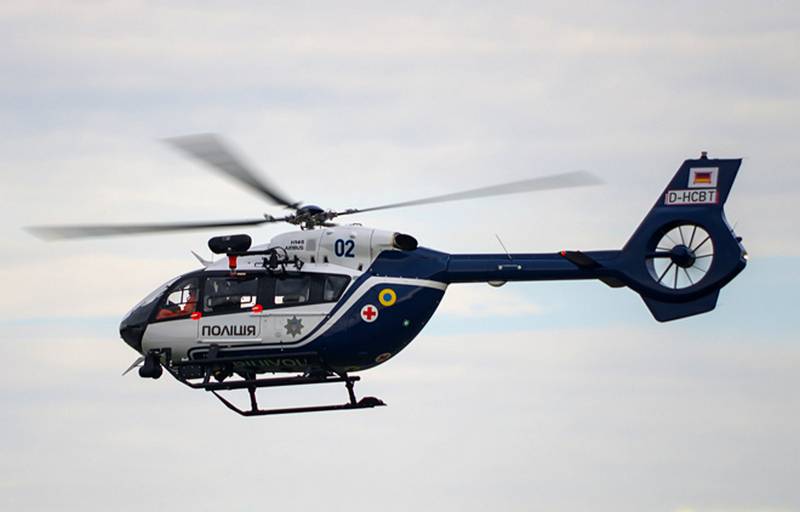 Ukraine has started receiving new H145 helicopters from Airbus Helicopters intended for the National Police. The first two helicopters reportedly arrived in Kiev on October 22.
According to the report, both helicopters arrived in Kiev from the German city of Donavyurt, having made an independent flight. The helicopters numbered 01 "blue" and 02 "blue" will be supplied to equip the aviation detachment of the Ministry of Internal Affairs of Ukraine.
According to information published by the Ukrainian military portal, both helicopters were built in 2020, before being delivered to Ukraine, they were used in Germany to train Ukrainian pilots and technical personnel. These rotorcraft are delivered in the H145D2 version with the possibility of upgrading to the H145D3 level (five-bladed propeller and increased load).
According to the contract, Kiev should receive eight more H145 helicopters by August 2021. It is assumed that all of them will be delivered already in an improved version of the H145D3.
In total, today, excluding two new H145 helicopters, Ukraine has received seven Airbus H125 helicopters for rescuers, the National Guard and border guards.
In total, Ukraine plans to receive 55 helicopters manufactured by Airbus Helicopters (light H125 and H145 and heavy H225), and if H125 and H145 are new machines, then H225 will be supplied from the fleet of decommissioned helicopters. Of the total, 21 are Airbus H225 and 34 Airbus H125 and H145. At the same time, earlier in Kiev it was stated that the N125 and N145 are planned to be used as combat ones.