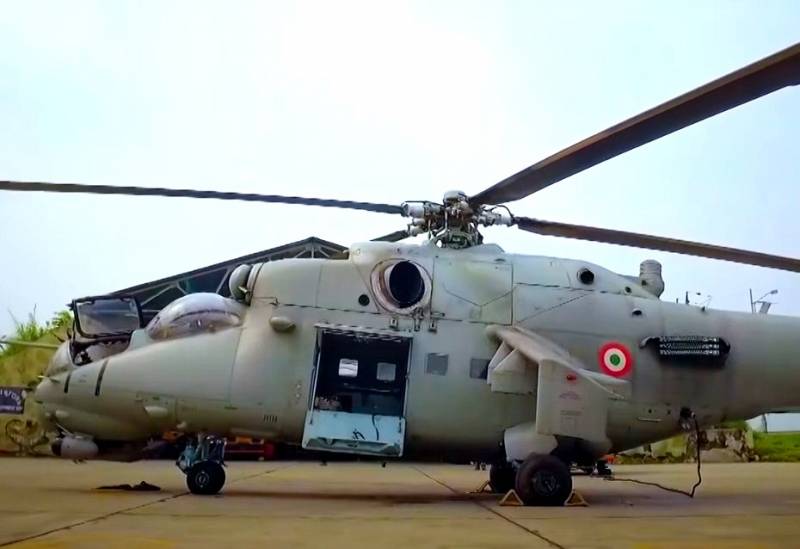 India is going to modernize the Russian Mi-35 helicopters, significantly increasing their combat capabilities by integrating a locally produced anti-tank guided missile.
At present, the Mi-35 helicopters are equipped with a Russian-made Shturm missile, which can hit
Tanks
enemy at a distance of up to 5 kilometers. However, in the face of constant tension in relations with neighboring states, especially Pakistan and China, the Indian army needs to increase the combat capabilities of its helicopters.
Now in India they are developing a new air-launched anti-tank missile Sant, capable of hitting tanks at a distance of more than 10 kilometers. The Indian military is going to test it in two months.
It is expected that the missile will be able to hit tanks with maximum efficiency, while the helicopter itself will be out of reach. As noted by the retired chief marshal
aviation
Fali H. Major, if a missile is capable of hitting enemy tanks from a distance of 10 km, then the helicopter carrying it is unlikely to come under return fire.
The Sant missile is developed by the Defense Research and Development Organization (DRDO). In December 2020, it should be launched for the first time from a Mi-35 combat helicopter, which, according to the Indian military, will be an important milestone in the development of the country's defense capability.
Preparations are under way for the first test launch of a missile from an Mi-35 combat helicopter. A series of air tests will follow next year, after which the rocket will be ready to launch.
- said a responsible officer of the Indian military department.
According to the plans of the military, the missile will be tested 8-10 times, and only then it will be declared ready for operation. This will happen, approximately at the end of 2021.
Recall that the currently existing Indian anti-tank missiles developed by DRDO - Nag and Helina - have an effective range of less than 5 km. The Nag missile is launched from a modified infantry fighting vehicle (called the Nag launch vehicle, or Namica) and has a range of 4 km, the Helina missile is designed to be mounted on the advanced light Dhruv helicopter and can engage targets up to 5 km away. By the way, the first successful test of the Sant rocket from a ground launcher has already happened.
It should be noted that in addition to the rocket for the helicopter, India has recently stepped up efforts to test a number of new weapons. So, a supersonic missile was tested - a torpedo to destroy submarines at long distances, a hypersonic missile Shaurya, capable of carrying a nuclear warhead.
In addition, Indian engineers are working to create an ultra-modern, according to the country's military, hypersonic
weapons
... In early September 2020, DRDO conducted the first successful flight tests of a hypersonic vehicle. Recall that at present only the United States, Russia and China have hypersonic technologies, but India, apparently, seeks to catch up with the recognized great powers.
Given the difficult relationship with China, India simply needs to regularly upgrade its weapons. avoiding a significant lag behind the Chinese armed forces. But the question is whether India has enough financial, organizational, and intellectual potential for an arms race with a more prosperous China.