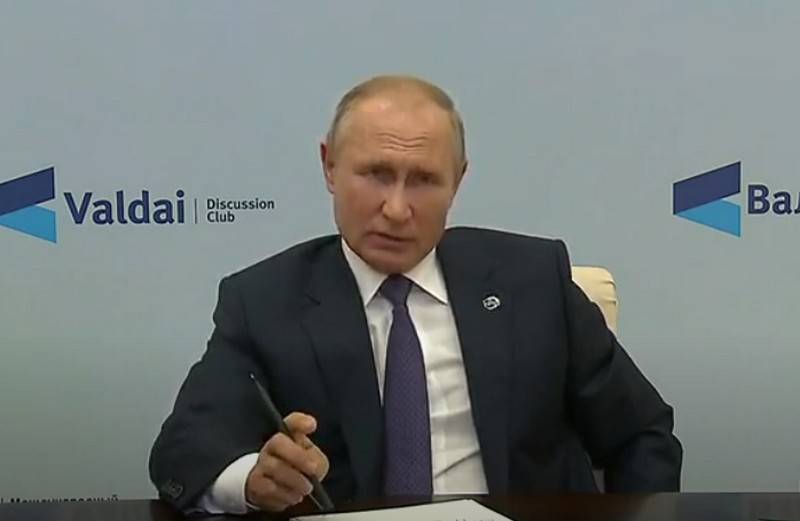 Russian President Vladimir Putin has responded harshly to opponents of Russia who expect Russia to "fade". He stated this during his speech at the Valdai Discussion Club via video link. The broadcast was conducted on YouTube.
During his speech, Putin warned Russia's enemies with the phrase: "I shouldn't catch a cold at your funeral."
Strengthening our country, looking at what is happening in the world, in other countries, I want to say to those who are still waiting for the gradual fading of Russia: in this case, we are worried about only one thing - how not to catch a cold at your funeral
- he said, talking about the three world powers: the USSR, the USA and Great Britain, which created the post-war world order. According to the president, at present "someone has tried to write off Russia."
At the same time, Putin added that Russia adequately assesses its own intellectual, military, territorial and economic capabilities. He stressed that Russia will cope with the sanctions imposed against it.
Putin also stressed that recently, large international structures began to participate in politicized campaigns against specific countries, thereby discrediting themselves. According to him, not all international organizations fulfill the tasks assigned to them, falling under the strong influence of "individual states".
And it's absolutely depressing when solid international structures, motivated by someone's selfish interests, are drawn into politicized campaigns against specific leaders and countries. This practice only discredits such institutions, leads to their decline, aggravates the crisis of the world order.
- Putin added.