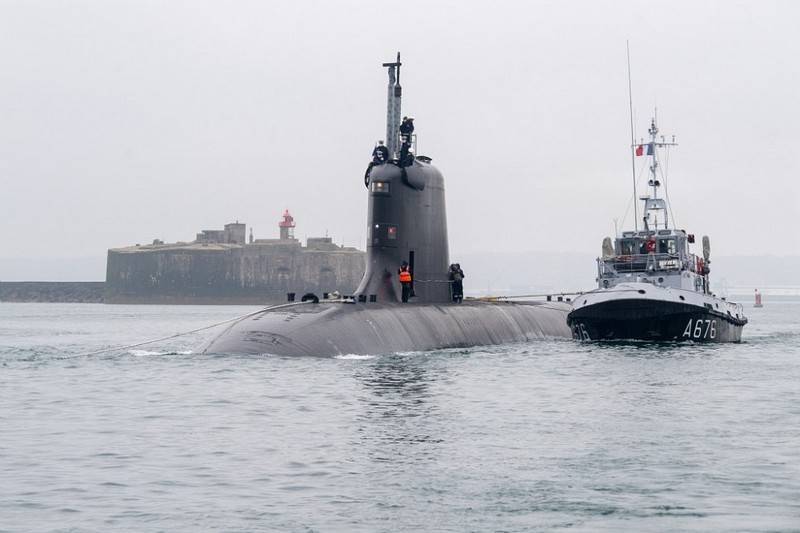 The French lead multipurpose nuclear submarine Suffren ("Suffren") of the new project Barracuda successfully launched a cruise missile during tests. This is stated in the communique of the Ministry of the Armed Forces of France.
On October 20, Suffren, the first of a series of six nuclear attack submarines of the Barracuda program, successfully completed a test launch of a cruise missile from the Biscarrosse test site.
- the message says. At the same time, it is not specified from which position the submarine was launched.
The success of the first cruise missile launch was hailed by French Defense Minister Florence Parly, calling it a "strategic breakthrough."
Suffren began factory sea trials in the spring of this year, for the first time the submarine went to sea from the arsenal of the French shipbuilding association Naval Group in Cherbourg on April 27, 2020. The submarine was supposed to enter the factory sea trials in early March, but the exit was postponed due to the quarantine introduced at the enterprise due to the coronavirus pandemic. According to the plans of the shipyard, the transfer of the submarine was supposed to take place this year, but the date of delivery is not currently being discussed. There are currently four more submarines of this project at the Cherbourg shipyard in various stages of construction.
The submarine, dubbed Suffren - in honor of the French admiral Suffren de Saint-Tropez - was built over 10 years. It was laid in December 2007, launched on July 12, 2019.
Submarines of this series are to replace the aging Rubis-class submarines built in the period from 1976 to 1993 in the French Navy, a total of six nuclear submarines have been ordered.
The submarine's displacement is about 5300 tons, the length is 99 m, the service life of the nuclear reactor reaches 10 years. Swimming autonomy - up to 70 days. The working depth of the immersion is 350 meters. The submarines will be armed with Scalp Naval and Exocet cruise missiles, as well as Black Shark heavy torpedoes.