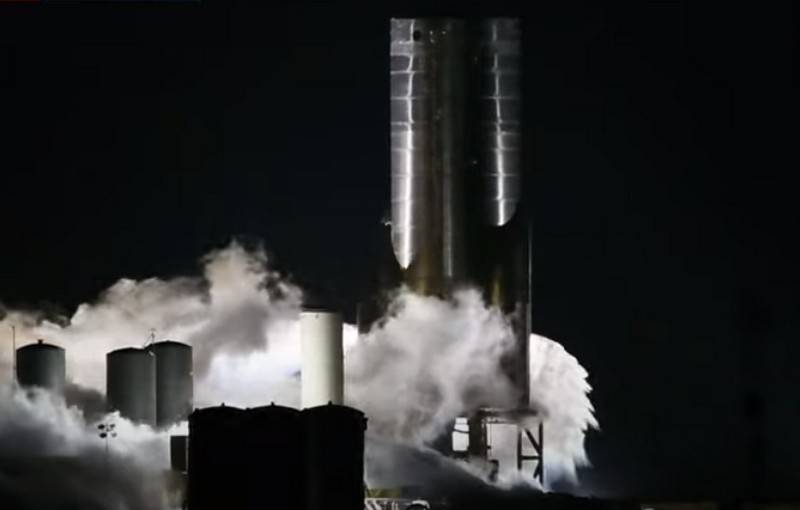 The American company SpaceX continues to test the Starship prototype. Reportedly, the next Starship SN8 prototype has successfully passed firing tests with three Raptor engines running. The broadcast was conducted on the NASASpaceflight YouTube channel.
The next Starship SN8 prototype was tested with three engines installed, in contrast to the previous ones, on which only one engine was installed. Two full-size prototypes Starship SN5 and SN6 with one engine have already taken off into the sky, now Elon Musk plans to make a test flight of SN8 at an altitude of 20 km. He announced this before the tests, promising, if successful, to send the prototype into flight after another firing test.
It is noted that the nose and aerodynamic rudders were made for the SN8, but they were not installed before the fire tests passed. Most likely they will be installed before the prototype test flight, which is to take place before the end of 2020.
Earlier, Elon Musk said that he is planning the first test flight in low-earth orbit of the Starship spacecraft in 2021.
In the final version, Starship will have a height of almost 50 meters, and its mass with a full load of fuel is 1400 tons. Equipped with 37 Raptor engines, it will be able to launch up to 150 tons of load into orbit or transport up to 100 people.
The Starship spacecraft is set to become the largest and most cargo-carrying manned spacecraft in
stories
. The main purpose of this ship is to deliver colonists to the moon and Mars. In the Starship Super Heavy version, it will be more powerful and heavier than the NASA Saturn V rocket, which delivered the Apollo astronauts to the moon.
The company planned to start commercial flights on Starship in the 2022 year.