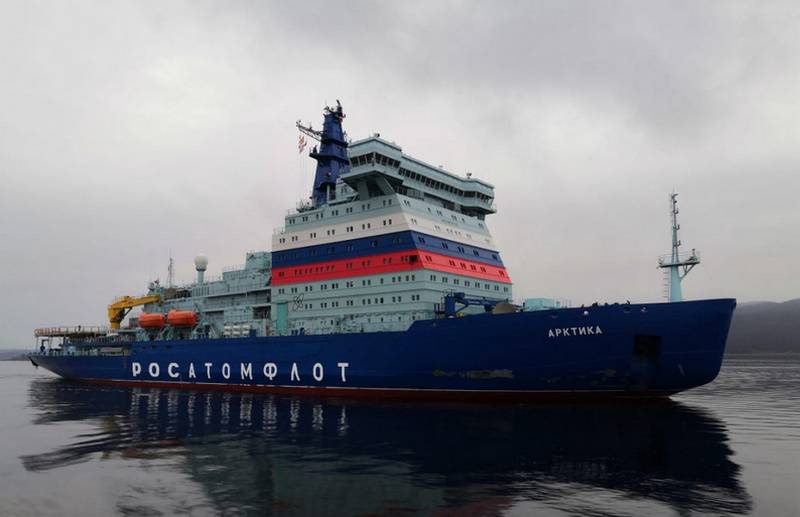 The lead nuclear-powered icebreaker Arktika, project 22220, will begin operations on the Northern Sea Route in December this year. The corresponding decree was signed by Prime Minister Mikhail Mishustin, the government's press service reports.
The lead universal nuclear icebreaker of project 22220 "Arktika" will be put into operation with a propeller shaft capacity of up to 50 MW. The decision will allow to start using the icebreaker in the water area of ​​the Northern Sea Route from December 2020
- said in a statement.
At the same time, it is specified that the icebreaker will go into operation with a faulty starboard propeller motor; it will be replaced in 2021 during docking in Kronstadt.
In 2021, a new starboard propeller motor will be installed at Arktika, which will increase the vessel's capacity to 60 MW
- noted in the document.
At present, the icebreaker "Arktika" is in Murmansk, where it arrived on October 12, 2020, having covered about 21 nautical miles in 4800 days of crossing from St. Petersburg. During the passage, the icebreaker specially went to the geographic point of the North Pole to test the operation of the propeller-rudder complex and the ship's electric propulsion system in ice conditions.
The Arctic nuclear icebreaker is the lead vessel of Project 22220 in a series of three vessels being built at the Baltic Shipyard in St. Petersburg under a contract with Rosatom.
A feature of the 22220 project icebreakers is the use of variable draft using ballast tanks. Double-deck ships can operate both in deep water and in shallow water in river beds, overcoming ice up to 3-meters thick without losing speed. According to project data, new icebreakers will become the largest and most powerful in the world.