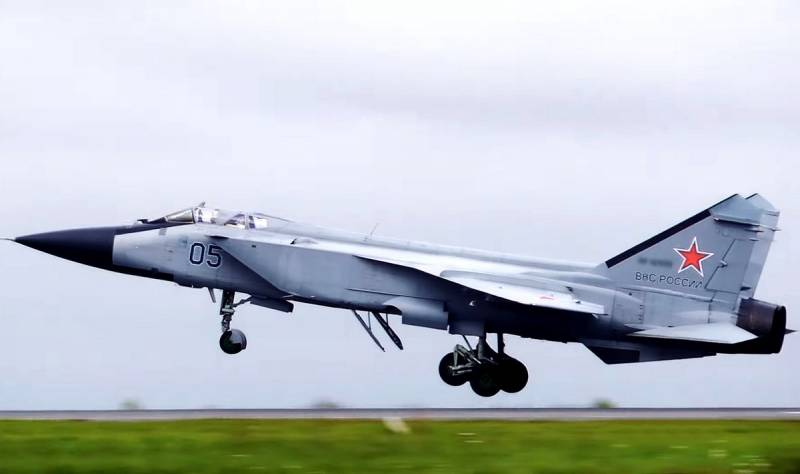 During past wars, American pilots were very annoyed by the MiG-25. It is currently expected that in the event of a military confrontation with Russia, the role of this aircraft will be assumed by the MiG-31 interceptor.
Fighter Jets World (USA) published material on the confrontation between the Soviet and American
aviation
.
The MiG-25 "Flying Fox" was one of the most stunning fighters of the Cold War
- considers the publication.
According to the American pilots, special tactics were developed to combat them. A sharp climb on the F-15 to 40 thousand feet (12,2 km) was assumed, after which the aircraft was transferred to afterburner mode. When a speed of about Mach 1,7 was reached, a careful pitching of 20-30 degrees [meaning pitching] and centering of the point on the AIM-7 [air-to-air missile] was carried out, then a volley of all four missiles was fired.
However, this approach was not always successful, and the MiG-25 proved to be the most tenacious platform against the F-15, both in the Israeli-Syrian conflicts of the 1980s and during the Gulf War.
- the newspaper writes, pointing out that its worthy successor is the much more advanced MiG-31 interceptor.
After its introduction in 1981, "American air superiority fighters needed more readiness than ever before to meet this high-speed target." However, unlike the Flying Fox, the MiG-31 never took part in hostilities with American fighters. Therefore, to this day it is a very dangerous threat to American fighters - "with an unrivaled range of fire over 300 km using their R-37 missiles."
Given that it was difficult for elite American pilots to intercept the MiG-25, intensive training is needed today to combat the Foxhound [MiG-31 in NATO designation], which has much more capabilities.
- concludes the edition.