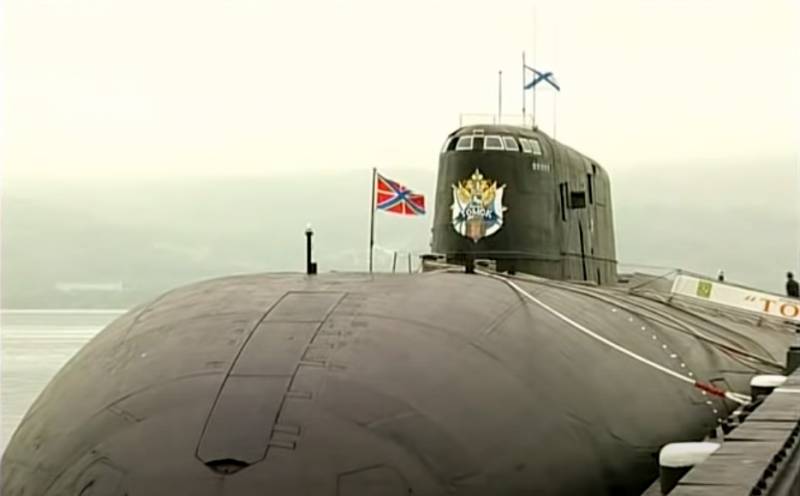 The Russian nuclear-powered submarine "Oryol" performed rocket firing during the exercise. Despite the modernization of the onboard weapons system of the Project 949A Antey submarines announced by the military department, they remained with the same main caliber.
All the same "Granite"
The Russians again fired old P-700 Granit anti-ship missiles from under the water, not the new Caliber, Onyx and Zircon
- writes the Polish edition of Defense24, describing the firing on October 13 in the Barents Sea at a distance of 120 km.
According to the data of external observation, which was flown by the IL-38 PLO aircraft, the crew of the Orel nuclear submarine successfully coped with the task assigned to it. However, questions are raised by the type of anti-ship missiles: "Granite" was created in the 1980s.
Meanwhile, judging by the previous statements of the Russian command, the ships of the Antey type should have been modernized and prepared for the use of new weapons systems
- explains the publication, noting that, as it turns out, not a single submarine of this project, which has left the shipyard over the past five years after repair and modernization, has not been subject to such changes.
Thus, work was carried out at Orel during 2014-2017. However, he kept the same
weapons
arsenal. A similar situation is observed in the case of the project 949A Omsk submarine, which underwent repairs in 2015 - 2019 and remained with the Granit anti-ship missile system.
Unfulfilled dreams of the fleet
Now everyone hopes that up to version 949AM with its characteristic new anti-ship missiles, Irkutsk will be remade, which is to leave the shipyard in 2022. However, this submarine is the oldest in its line. Therefore, it is unlikely that a decision will be made to invest huge funds in it for modernization.
So, there is a high probability that the modernization of the Anteevs to version 949AM will remain an unfulfilled dream of the Naval
fleet
- concludes Defense24.
Currently, the Navy has seven submarines of the 949A type, the Kursk died in 2000, three Anteyas were decommissioned in the 2010s, the Belgorod is being completed according to a special project and should be the carrier of the Poseidon nuclear torpedo. The nuclear submarines that remain in service are armed with 12 twin Granit launchers. At the same time, Rubin Central Design Bureau has developed a project for their modification to version 949AM. As expected, upgrading the launch systems would not require any changes to the hulls of the ships.