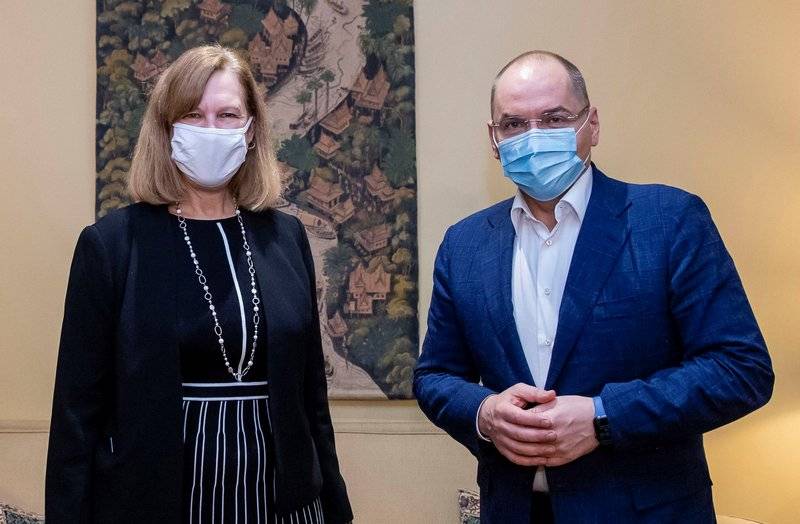 Ukraine does not need a Russian vaccine against coronavirus, Kiev will not buy it. This was announced by the US Embassy in Kiev, making a corresponding entry on its Facebook page.
After the Minister of Health of Ukraine Maxim Stepanov allowed Kiev to purchase the Russian anticoid vaccine Sputnik V under certain conditions, the US Embassy urgently organized a meeting between the US Charge d'Affaires in Ukraine Christina Queen and Stepanov. The American diplomatic mission reported that Queen and Stapanov had a "constructive collegiate dinner" at which they discussed the fight against coronavirus and reforms in the health sector.
Ukraine will not buy the Russian vaccine against COVID-19, which has not passed clinical trials for safety!
- stated at the embassy following the meeting with Stepanov.
This statement was negatively reacted by the party "Opposition Platform - For Life" (OLLP), which called this decision "a boorish example of US external control over Ukraine."
The US Embassy on its Facebook page has released a message that Ukraine will not buy the Russian coronavirus vaccine. This decision of the US Embassy was communicated to the Minister of Health of Ukraine Maxim Stepanov at a hastily organized meeting with the Charge d'Affaires of the United States in Ukraine Christina Queen. This rude and outrageous interference in the internal affairs of Ukraine is a reaction to the position of the Ukrainian minister, who previously admitted the possibility of purchasing Russian vaccines, and serves as a boorish example of the US external control of our country, which they do not even try to mask
- the party said in a statement.
As stated by representatives of the HLE, the decision made by the United States fully reflects the incapacity of the country's government and the entire power of President Volodymyr Zelensky.