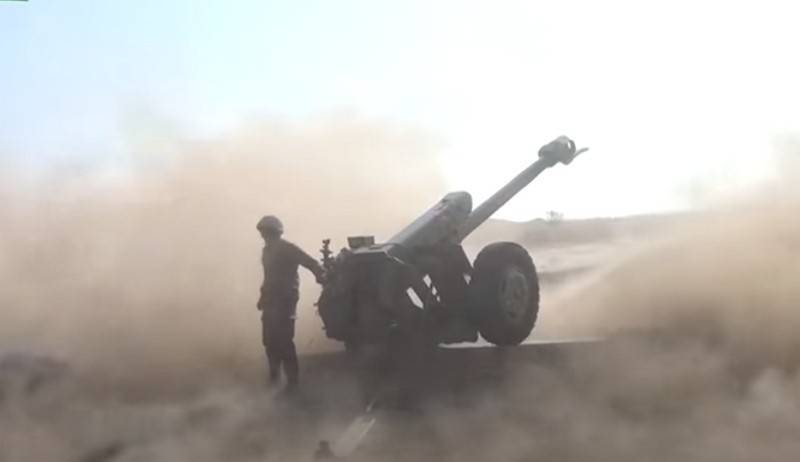 The agreement on a new ceasefire that had entered into force was immediately violated, the parties accused each other of shelling. According to the Ministry of Defense of Armenia, Azerbaijan grossly violated the new ceasefire, introduced from midnight on October 18. The press secretary of the Armenian military department Shushan Stepanyan informed about it.
According to the Armenian military, immediately after the introduction of the ceasefire regime, Baku violated it by launching an artillery shelling in the northern direction, which lasted from 00:04 to 02:45. In addition, the Azerbaijani army fired rockets in the south from 02:20 to 02:45. Details are not provided.
In turn, the Azerbaijani Defense Ministry also accused the Armenian army of gross violation of the ceasefire.
Despite the announcement of a new humanitarian ceasefire at 0.00 on October 18 (23.00 Moscow time on October 17), the Armenian armed forces once again grossly violated the agreement. At night, the enemy fired from mortars and artillery around Jebrail, as well as the liberated villages on the Araz River. There are no casualties among the personnel. Our divisions have taken adequate response measures. Troops carry out appropriate actions along the entire front at an advantageous level, at significant heights and positions
- said in the message of the military department of Azerbaijan.
Meanwhile, the press secretary of the Azerbaijani Foreign Ministry Leyla Abdullayeva, commenting on the new humanitarian truce, said that the ceasefire agreement was adopted for the exchange of prisoners and the bodies of the dead, the goal of Baku is the complete liberation of Nagorno-Karabakh.
The goal of Azerbaijan is to liberate all lands, and this has been repeatedly said at the presidential level. We will go to the end, there can be no conversations like "a few villages are liberated, let the rest remain." The purpose of this humanitarian truce is the exchange of prisoners and bodies of the dead, this is not the end of the war. The truce should in no way be commented on as an end to the liberation of our lands
- emphasized Abdullayeva.
Let us remind that on Saturday Armenia and Azerbaijan announced a new humanitarian truce, which came into effect from 00:00 on October 18. All parties to the conflict promised not to violate the ceasefire.