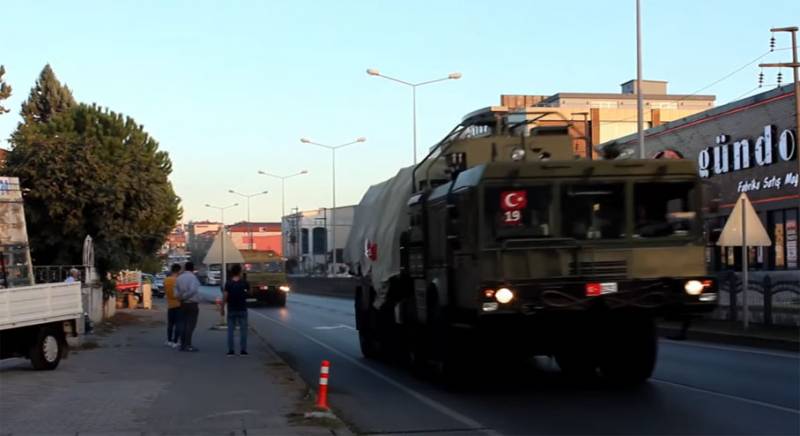 The Greek press writes that by Saturday, October 17, Turkey is completing the main phase of testing the S-400 Triumph anti-aircraft missile system. The publication Ekathimerini (Greece) writes that the air defense system, acquired by the Turks from Russia, was tested for the possibility of detecting aircraft and other air targets for four days.
A few days ago, Voennoe Obozreniye reported that the Turkish armed forces transferred the S-400 air defense system to the Black Sea coast to conduct exercises in the Sinop region. Then in Greece they expressed fears that with such a deployment, Turkey could try to carry out exercises to detect Greek Air Force planes in the air (over the Mediterranean). However, the distance from the exercise area to Greek airspace is over 900 km. Theoretically, such a distance for detecting air targets for the S-400 air defense systems is unattainable.
At the same time, the Greek media noted that the exercises could also be conducted to monitor the air situation over the Black Sea, including over the airspace in the Crimea region. The following nuance is added: as soon as Turkey began its exercises with the S-400 in the north of the country and as soon as it showed significant activity in relation to the conflict in Nagorno-Karabakh, the Russian Aerospace Forces launched a series of strikes against militants in Syrian Idlib, destroying several fortified areas and infrastructure facilities of gangs , actually controlled by the Turkish special services.
It is assumed that this was an asymmetric response from Moscow, which demonstrated that there are "red lines" for which Erdogan should not step up.
Publication of a video with the passage of S-400 air defense systems through the Turkish settlement on October 7: