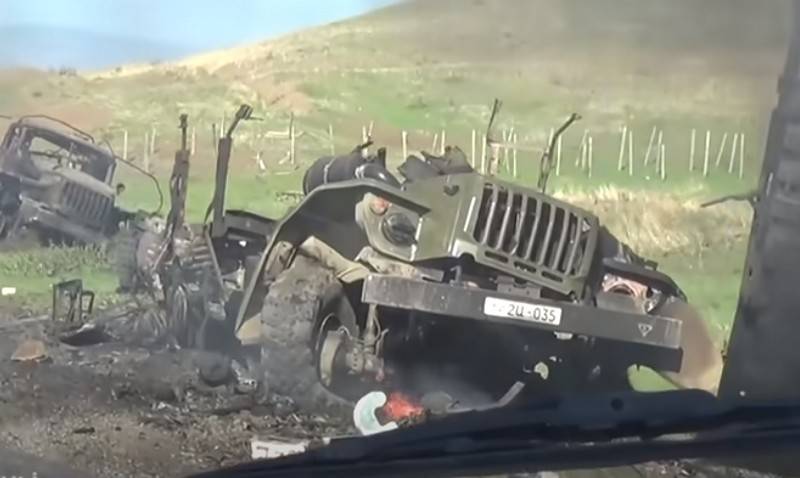 The armed conflict between Azerbaijan and Armenia over the unrecognized Nagorno-Karabakh has already claimed many lives. To stop the conflict, the United States does not need to rely on the OSCE or the Minsk Group, but needs to recognize the independence of Karabakh, following the example of Kosovo. This is the conclusion reached by Michael Rubin, the author of an article published in the American edition of The National Interest.
As Rubin writes, the US strategy is confused, but even on the day the military conflict in Nagorno-Karabakh began, the US State Department issued a statement in which it warned third parties against participating in the conflict. However, this was neglected by Azerbaijan, which gratefully received Turkey's help.
According to the author, Nagorno-Karabakh was historically inhabited by Armenians, but in 1923 Joseph Stalin transferred this region to Azerbaijan. After the collapse of the Soviet Union and independence by Armenia and Azerbaijan, the United States decided to continue Stalin's strategy and support Baku in the confrontation between the countries.
However, in 1992, the US Congress passed the Freedom Support Act, Section 907, which prohibited the United States from helping Azerbaijan. This ban lasted until 2001 and was lifted, despite the fact that a dictatorship ruled in Azerbaijan. The point is that Baku was demonstratively opposing Iran, supporting Israel, which was in the hands of the United States. There was also a dictatorship in Armenia, but it was pro-Russian.
Now everything has changed, in 2018 Armenia overthrew the dictatorship and turned to democracy. There are no problems with Yerevan's orientation towards Russia, since the United States does not have the task of developing pro-Western views in Armenia, Rubin writes.
But in Azerbaijan the dictatorship has only strengthened. Aliyev resolved the outbreak of internal conflicts by using ethnic conflicts and foreign aggression.
The White House may reintroduce Section 907 and ban aid to Azerbaijan. However, this will not be enough, therefore, without relying on the OSCE and the Minsk Group, the US State Department needs to implement the policy it is pursuing in Kosovo.
Like the Republic of Artsakh, Kosovo has its own
история
... Dictators forced Kosovo to enter into unprofitable alliances, where it faced aggression and repression, the same happened with Artsakh. The West turned against the Serbian dictatorship and history of ethnic cleansing, and in 2008 Kosovo became the youngest member of Europe
- Rubin writes.
The author notes that the USA and the West could recognize Artsakh, thus guaranteeing it the fate of an independent state and security. Artsakh has a rich history, it is more worthy of independence than many modern countries. In addition, by recognizing the independence of Artsakh, the United States will send a signal to Turkey, showing that interference in the affairs of other countries can have negative consequences.