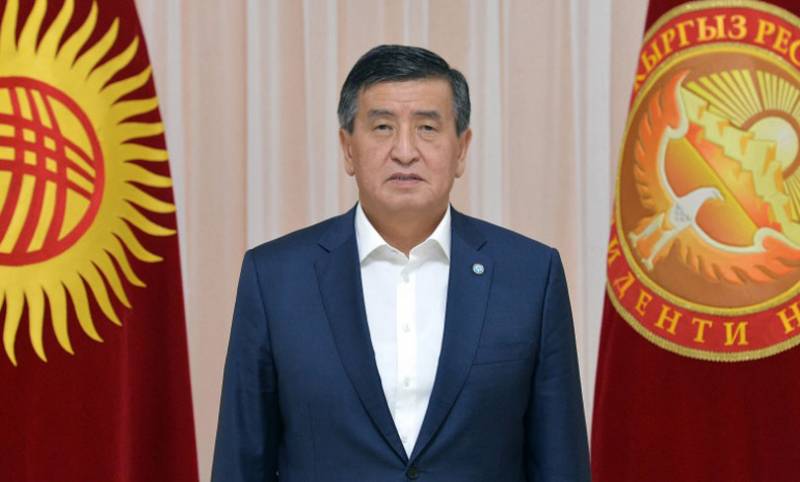 Urgent messages about the political situation are coming from Kyrgyzstan. home
news
at this hour is that the President of the Kyrgyz Republic Sooronbai Jeenbekov decided to resign from his post.
According to Jeenbekov himself, he does not hold on to power with all his might. It is extremely important for him that there is peace and a platform for sustainable development in the republic. Addressing the citizens of Kyrgyzstan, the President noted:
Yesterday the Jogorku Kenesh (the country's parliament, - note "VO") approved the composition of the Government, I signed the decrees of the President of the Kyrgyz Republic on the appropriate appointments. But this did not ease the tension.
Jeenbekov stressed that the aggression on the streets of the cities of the republic continues, as well as the actions with demands against him to leave the presidential post.
The President of the Kyrgyz Republic stressed that the integrity of the country, the unity of the people, tranquility and peace in society are above all for him.
Sooronbai Jeenbekov:
There is nothing dearer to me than the life of each of my compatriots. I'm not holding on to power. I don't want to stay in
stories
Kyrgyzstan as the President who shed blood and shot at his own citizens. Therefore, I decided to resign. I urge Japarov and other politicians to withdraw their supporters from the capital of the country and return a peaceful life to the people of Bishkek.
Experts note that Jeenbekov's departure from the presidency may not lead to stabilization of the situation in the republic. Since the resignation of the president may lead to demands for criminal prosecution against him, as has already happened with the previous presidents of Kyrgyzstan.
It should be reminded that mass protests in the republic began after the parliamentary elections, the results of which were not immediately recognized by 12 parties. At the request of the protesters, the CEC canceled the election results, but then this did not calm the situation.