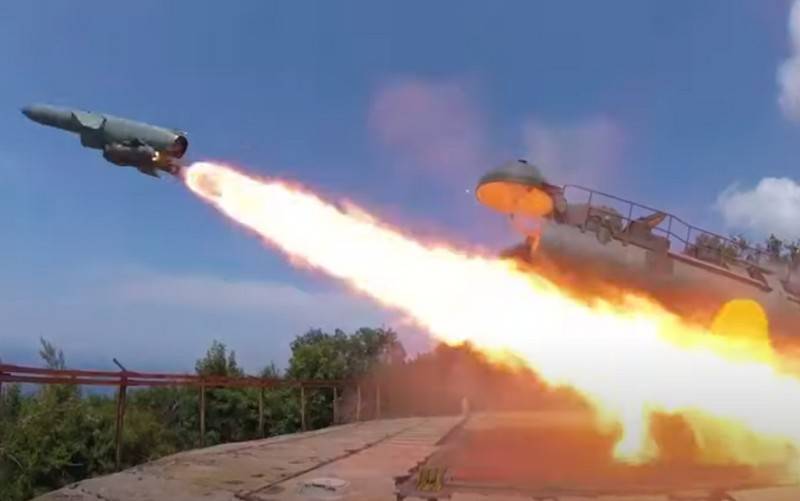 The Black Sea Fleet conducted exercises with the participation of the Utes coastal missile system and the Admiral Grigorovich Black Sea Fleet frigate. According to the press service of the Black Sea Fleet, during the drawing of the scenario, the Utes DBK fired a Progress missile at the frigate, which was successfully hit by the ship's RK Shtil.
During the exercise, the crew of the Utes missile complex discovered the Admiral Grigorovich frigate and fired a Progress missile at it. At a distance of more than 10 km, the missile was detected by the ship's air defenses and destroyed by the Shtil missile system. The area where the live firing was carried out was previously closed to navigation
- says the message of the Black Sea Fleet.
It should be noted that the use of the Utes coastal missile system in joint exercises with live firing is far from the first. Last year, a similar scenario was played out with the participation of the frigate "Admiral Makarov".
Coastal missile system "Utes" (in the years of the USSR "Object-100", or "weaving") was created in 1957 in the area of ​​Cape Aya. Transferred to the Ukrainian Navy after the collapse of the USSR, the complex, consisting of two divisions, fell into disrepair: one division was mothballed, the second completely fell into a sky-ready state. Restoration work began in 2014, immediately after the reunification of the peninsula with Russia. The readiness of the Utes to defend the Crimean coast was confirmed by successful missile launches during the exercises.
Created back in Soviet times, the Utyos complex is equipped with P-35 anti-ship cruise missiles with a firing range of up to 300 km, and since 1982 with a modification of this extended-range Progress missile. However, these missiles are already outdated. As stated at the end of August last year, the general director - general designer of NPO Mashinostroyenia Alexander Leonov, in the future the complex will be re-equipped with another modern missile. The timing of the rearmament and the missiles for which the complex will be rearmed has not yet been reported.
The flight range of the anti-ship missile Progress is up to 460 km. The Cliff complex is also used to launch target missiles.