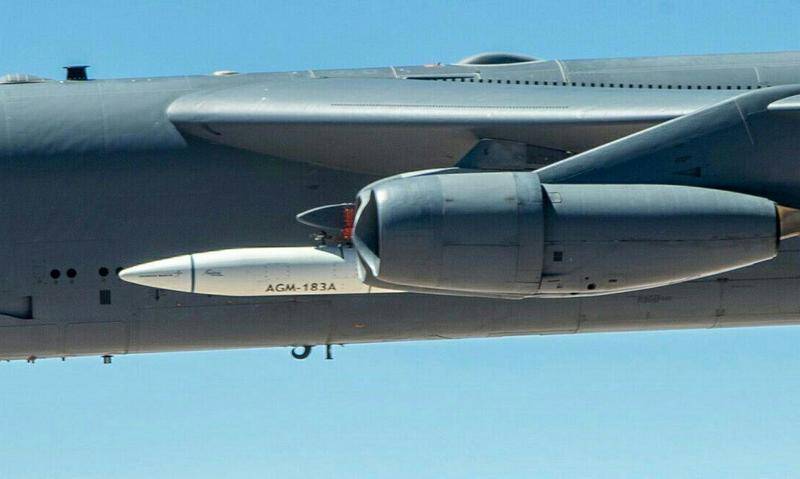 The newest American hypersonic cruise missile AGM-183A Air-Launched Rapid Response Weapon (ARRW) will be able to reach speeds of up to Mach 6,5 - 8. Reported by The Drive.
According to the data published by the publication, the rocket will cover the distance of 1000 miles (more than 1600 kilometers) in 10-12 minutes.
The AGM-183A ARRW missile was created in response to similar developments in Russia and China. The B-52H Stratofortress strategic bombers (four missiles per strategist) will be the first to receive a hypersonic missile.
In February of this year, Lockheed Martin announced the successful defense of the project of a promising hypersonic aeroballistic missile ARRW (Air-launched Rapid Response Weapon), which has been under development by order of the US Air Force since 2018.
Earlier it was reported that the US Air Force and Lockheed Martin signed a contract worth $ 988,8 million to create an ARRW hypersonic missile (
Weapon
quick response based in the air). The agreement includes a critical review of the ARRW project, test support and preparation of the complex for production. The missile should be ready by 2021, and the initial operational readiness by 2022. According to the company, the work is on schedule.
It is known that the rocket will receive a solid-propellant engine and a detachable hypersonic gliding warhead.
The first flight tests of hypersonic warheads with the AGM-183A ARRW air launch system took place in the United States in June 2019 and were considered successful. In August of this year, test flights of the B-52H strategic bomber with AGM-183A missiles were carried out. The bomber took off from Edwards Air Force Base (California).