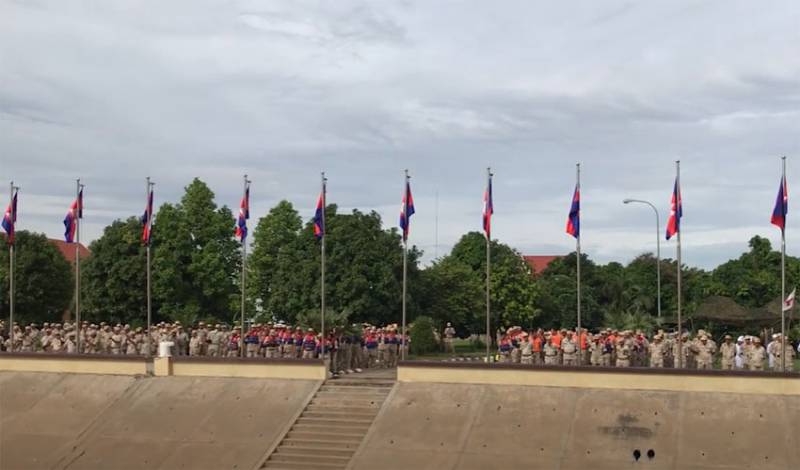 The US State Department released a message in which it expressed concern about the actions of the Cambodian authorities.
We are talking about the Ream naval base, which, according to Washington, the official Phnom Penh is preparing for transfer to the Chinese naval forces. The State Department says that Ream "may become another Chinese military base abroad." In particular, it points to two other Chinese facilities with military infrastructure - the base in Djibouti and the area of ​​the port of Gwadar (Pakistan), which Beijing itself calls a purely civilian project.
US State Department:
We express our concern that Cambodia is thereby damaging US-Cambodian cooperation, including in the area of ​​maritime security. The use of the Ream military base in the Gulf of Thailand by the Chinese military will negatively affect bilateral cooperation between Washington and Phnom Penh and will destabilize the Indo-Pacific region.
In the United States, they say that the PLA naval ships are already entering Ream.
Earlier, the Cambodian authorities decided to make the Ream base open to ships of different fleets. There ships can replenish supplies of fresh water, fuel, food.
The authorities of the Asian country expressed bewilderment as to why Washington decided to highlight the possibility of entering Ream by Chinese warships.
Against this background, the US State Department announced that they hope for the Cambodian Prime Minister to make the "right decision" on further cooperation with the United States and "on agreements to maintain the infrastructure in Ream by the United States."
Prime Minister of Cambodia Hun Sen:
Our Ream base is also open to American ships. Come to the port and you. We cannot open the base for some and close it for others. This will create unnecessary tension in the Indo-Pacific region.