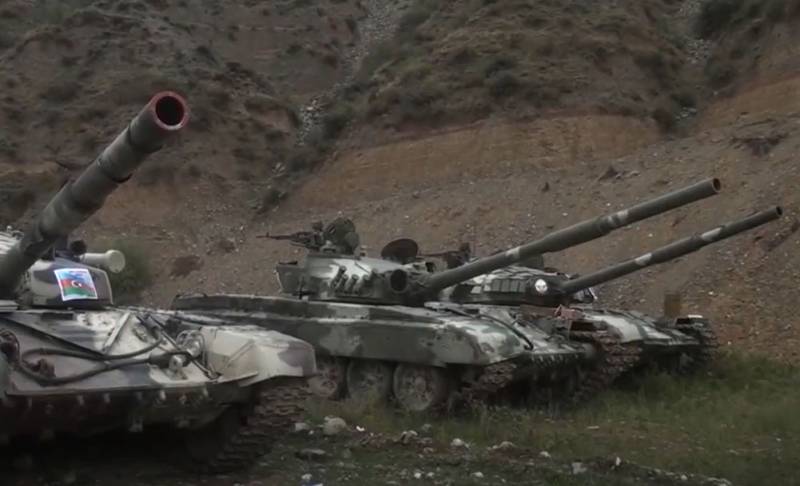 In the disputed high-mountainous region of East Ladakh, India and China have deployed sufficiently powerful groups, reinforced
tanks
... The Chinese Type15 light tanks are opposed to the T-72 and T-90 of the Indian armed forces. At the same time, Indian military experts draw attention to the fact that in such landscape conditions, tanks turn into a vulnerable target for air strikes - primarily with the use of drones.
Former commander of the Northern Army of India, Lieutenant General D.S. Khuda cites as an example the situation that is developing in the course of the Armenian-Azerbaijani conflict. The retired general notes that in Nagorno-Karabakh, the conditions for using tanks are similar to those in Ladakh.
D.S. Hood:
The Azerbaijani military has deployed many drones for both surveillance and attack. These are kamikaze drones. They simply circle over the battlefield, identify a target, such as a tank, and crash into it from a height, ensuring defeat. Azerbaijani troops use Turkish and Israeli UAVs, acquired in large numbers in recent years.
The Indian general notes that with the massive use of shock and reconnaissance drone
aviation
the role of tanks is becoming less obvious. Any tank, even a completely modern one, turns into an open target without a strictly built air defense system. At the same time, D.S. Khuda emphasizes that the Armenian side announced that 107 unmanned aerial vehicles of the Azerbaijani troops were shot down.
This means that the air defense systems are working, but at the same time the number of drones indicated in the report indicates how massive their use is in Karabakh.
This conflict, like the conflict in Syria, according to the retired lieutenant general of the Indian armed forces, indicates that the viability of tanks is questionable regarding future wars.
D.S. Khuda, noting that the tank units of India and all the armed forces of the country need to learn a lesson from the format of the battles in Karabakh:
It looks like the era of large tank battles is over. On the modern battlefield, and especially on the battlefield of future wars, there are more and more questions about the viability of tanks.
It was noted that in Ladakh, India, one should not rely on the use of armored vehicles.