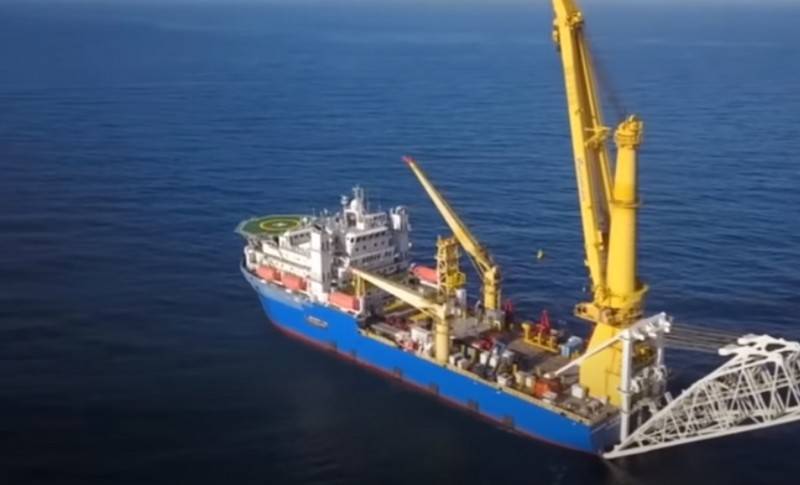 The pipe-laying vessel Akademik Chersky, together with several special vessels, began preparations for work on the Nord Stream 2. The vessels conducted training on the Baltic Sea shelf in the Curonian Spit area. This is evidenced by MarineTraffic data, and also reported in the maritime industry of the Kaliningrad region.
According to the sea portal, the vessel "Akademik Cherskiy" left the German port of Mukran on October 1 this year and arrived in the Kaliningrad region on October 8, where it is located 60-80 km from the coast on the beam of the Curonian Spit in the "limited maneuverability" mode. The pipelayer was joined by three special vessels, which together with him carried out the alignment before starting work.
For several days, the Akademik Chersky, as well as the special ships Umka, Baltic Researcher and Finval, were about 60-80 km off the coast of the Kaliningrad Region, on the beam of the Curonian Spit. All these days, the crews of the ships carried out the so-called coordination and training on joint maneuvering, conducting work on laying the underwater pipeline
- Interfax reports, citing a source in the maritime industry.
As the source added, the coordination was necessary since the crews of some vessels have already participated in the laying of the gas pipeline, and some will have to do this for the first time. At the same time, the depth and characteristics of the seabed in this area in all respects correspond to the section where the laying of the remaining part of the pipeline will continue.
An auxiliary vessel "Ivan Sidorenko", which is planned to be used to supply pipes during the completion of the "Nord Stream-2", may join the tests. Currently, the auxiliary vessels Ostap Sheremet and Ivan Sidorenko are in the port of Svetly.
When the work starts, it is not reported, Gazprom does not comment on the appeared
news
, Nord Stream 2 AG also declined to comment on the start of work.
According to experts, with the domestic vessels at Gazprom's disposal, it will take three to five months of clean work to complete the laying of Nord Stream 2.