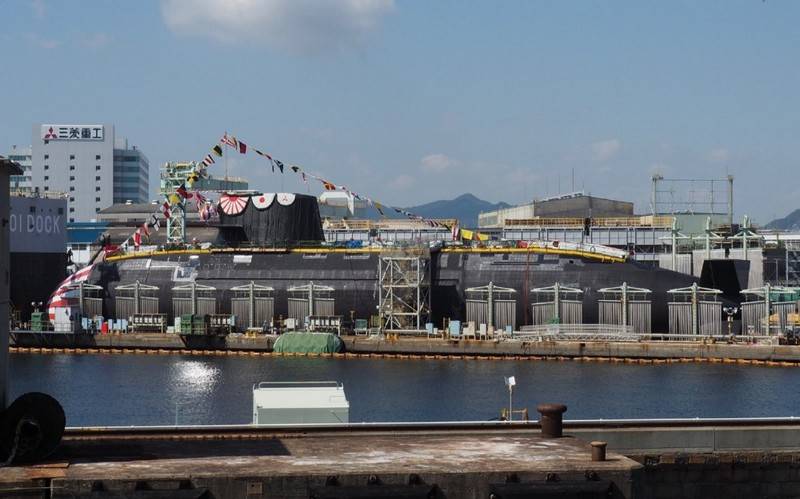 A new generation non-nuclear submarine Taigei (29SS) was launched in Japan. The ceremony took place on October 14, 2020 at the Kobe Mitsubishi Heavy Industries shipyard.
The JS Taigei (Big Whale) submarine SS 513 is the next generation lead submarine to replace the Soryu-class submarines. The new submarine retains the general shape of the Soryu submarine hull, but has a number of design changes. The Taigei submarine has a significantly reduced wheelhouse, which is expected to be "fitted" into the hull to reduce drag and improve noise performance. In addition, the "insides" of the submarine have undergone significant changes.
It is reported that the submarine has an improved snorkel system in order to reduce the signature, a new generation GAS, new sound-absorbing materials are used to reduce the submarine's signature. The submarine will receive a complex torpedo countermeasures (TCM), which throws false targets.
The main difference between the Taigei nuclear submarine and the previous generation Soryu is the rejection of the Stirling engine. Instead, new lithium-ion batteries are installed.
The standard displacement is about 3 thousand tons, the hull length is 84 meters, the width is 9,1 meters. Crew - 70 people. Other details have not yet been disclosed.
In total, the Japanese Navy intends to commission 7 submarines of this class. It is assumed that the head "Taigei" will be transferred
the fleet
in March 2022, two more submarines are under construction, there is no information about the laying of the rest.
The last submarine of the previous generation "Soryu", dubbed "Toryu" ("Fighting Dragon"), was launched on November 6, 2019.