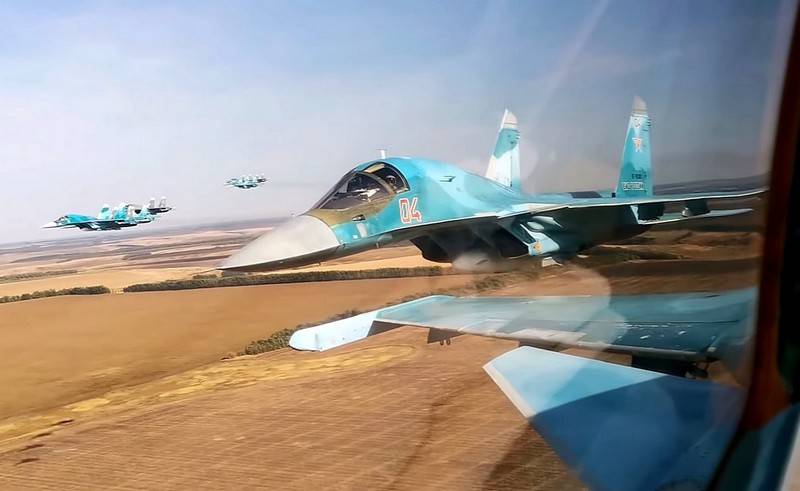 The Ministry of Defense has decided to expand the standard training program for pilots of the Su-34 multifunctional fighter-bomber. As reported
"News"
With reference to sources in the Ministry of Defense, the crews of bombers will be taught how to conduct air combat at high altitudes and supersonic speeds.
The front-line bomber Su-34, the newspaper writes, was previously used exclusively as a strike aircraft to destroy ground and sea targets, as well as to cover other bombers with electronic warfare. Occasionally, aircraft crews conducted exercises using melee rockets. In addition, the Ministry of Defense reported on the equipping of Su-34 air-to-air missiles that were performing missions in Syria.
Now a decision has been made to expand the training program for Su-34 pilots with training in air combat. The first exercises of this kind have already been held in the Central Military District. As the press service of the Central Military District reported the day before, the Su-34s took part in a training session on actions in the lower layers of the stratosphere. At an altitude of 15 km at supersonic speed, aircraft crews worked out the detection of the enemy and its destruction. At the same time, the aircraft operated independently, without guidance from ground-based air defense.
In the military department, the Su-34 is classified as a fighter-bomber. In addition to a wide range of conventional and guided ammunition, the Su-34 is equipped with
aviation
cannon and can carry up to six short- or medium-range air-to-air missiles, but on the modernized version of the Su-34M, which will begin to enter the troops already in 2021, the arsenal of missile weapons has been significantly expanded.
Despite the fact that the Su-34 is a front-line bomber with an increased range, it has the capabilities of a fighter. There is nothing particularly difficult about this. Starting with the Su-17 aircraft, we have been practicing shooting at air targets. Fighter-bombers will not carry out air defense functions, but while performing combat missions they will be able to defend themselves
- commented on this
news
ex-commander of the 4th Air Force and Air Defense Army Lieutenant General Valery Gorbenko.