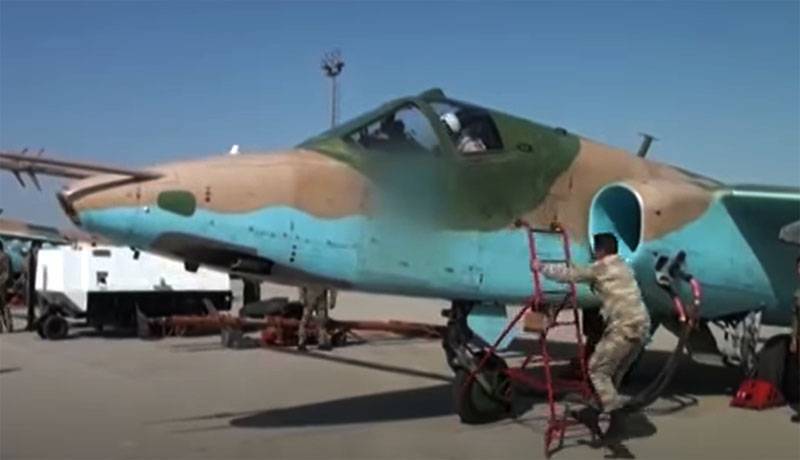 The Ministry of Defense of Armenia presented a regular report on the course of the battles in Nagorno-Karabakh. At the same time, in the report published by the press secretary of the Armenian Defense Ministry Shushan Stepanyan, it is stated that the defense army of Artsakh (the unrecognized republic of Nagorno-Karabakh) "shot down the Su-25 attack aircraft of the Azerbaijani Air Force."
If this is a new report, then we can conclude that Azerbaijan is losing the second Su-25 attack aircraft in recent days. But the Ministry of Defense of the Republic of Azerbaijan does not confirm information about the losses of its attack aircraft in the conflict zone.
Let's remind that earlier the Armenian side announced that it had lost its own Su-25 attack aircraft. At the same time, it was argued that the loss occurred as a result of a blow from a Turkish F-16 fighter. The wreckage of the aircraft was demonstrated, but so far no evidence of the use of the F-16 of the Turkish Air Force by either Yerevan or Stepanakert has been presented. However, then satellite photos appeared with the F-16s at the airfield in Ganja.
Shushan Stepanyan on Facebook:
Confirming that so far not a single rocket, shell or bullet has been fired from the territory of the Republic of Armenia in the direction of Azerbaijan, at the same time we declare that from now on, the armed forces of the Republic of Armenia reserve the right, according to the same logic, to target any military object. or movement in the territory of Azerbaijan.
Against the background of such statements, each of the parties to the conflict continues to declare that it is "observing the humanitarian truce." Agreements on such a truce were reached in Moscow, but so far they have not yielded results.