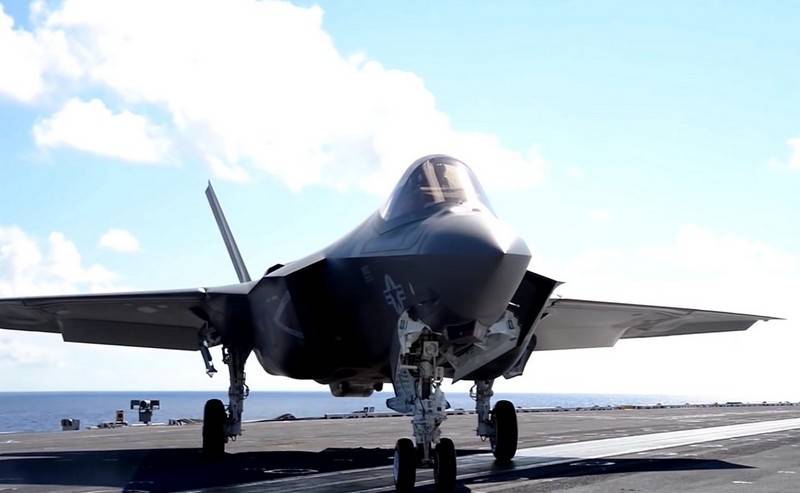 In the United States, the US Marine Corps F-35B fighters were used. Fighters of the fifth generation F-35V KMP can be used to aim high-precision
weapons
... Writes about this C4ISRNET.
F-35B fighters can aim high-precision weapons, this is achieved through the integration of aircraft into the tactical network. As the newspaper writes, in September of this year, an exercise was conducted at the Yuma training ground using the F-35B, during which the destruction of objects of a potential enemy, in particular Russia, was practiced.
During the exercise, the Marine Corps F-35B fighters received data from satellites, then transmitted it to ground weapons that hit targets. At the same time, it was clarified that not only military satellites were used to obtain information, but also commercial spacecraft.
(...) the Marine Corps F-35 Lightning II fighter will be used to synchronize data between multiple platforms owned and operated by different services
- writes the edition.
Earlier it was reported that the United States has developed a precision guidance system called Project Convergence. This system allows, due to the analysis of data from LEO satellites, to deliver high-precision strikes.
Data from satellites scanning the combat zone are transmitted to a ground data processing station, which identifies the location of enemy targets and transmits it to the command post for the Tactical Assault Kit system. This system, in turn, determines which weapons will more effectively cope with the destruction of the enemy.
- said in a statement.
Thus, the F-35 fighter is planned to be used as a satellite data transponder to ground targets.
F-35B - 5 multi-generation supersonic fighter-bomber with short take-off and vertical landing, created using stealth technology. The aircraft was specially designed for the needs of the United States Marine Corps and the British Navy.