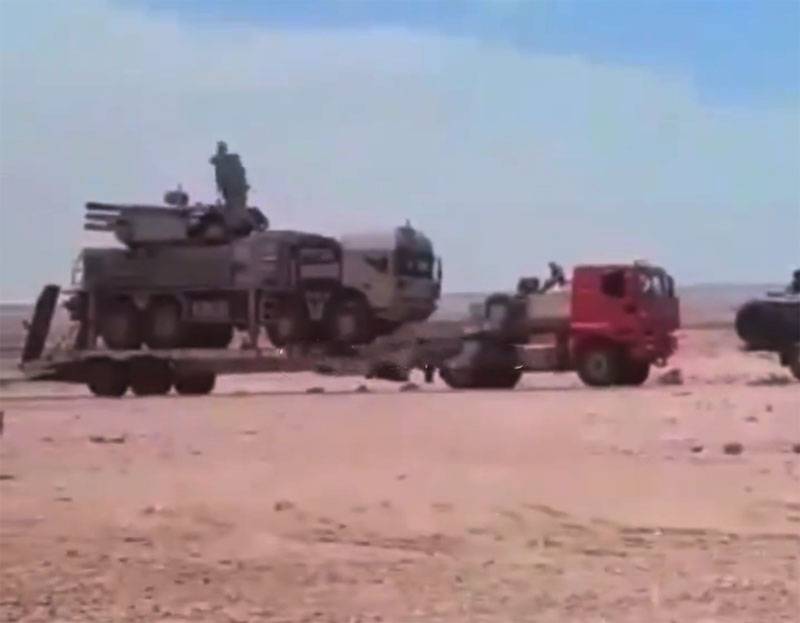 A video appeared on the network that attracted the special attention of military experts and ordinary users interested in military topics. The post appeared on the Twitter account of Ouais Hasari. The video publication is accompanied by a text stating that what is happening on the video was filmed in Libya.
The footage captures the Pantsir anti-aircraft missile-gun system (ZRPK), which, according to the caption to the video, the United Arab Emirates supplied the Libyan National Army (LNA). Recall that the commander of the Libyan National Army is Marshal Khalifa Haftar.
It is reported that the shooting was made in the area of ​​El Jufra.
Attention is drawn to the fact that the "Pantsir" air defense missile system is on a wheeled vehicle platform and at the same time is in a combat state. In this regard, questions arose, why did you need to bring the air defense system into combat condition, if it did not even have time to move off the tractor platform?
#LNA and #SLMA mercenaries accompanied by #UAE bought #Russian Pantsir system patrolling #Aljufra region.#Libya pic.twitter.com/CjSHU1U47Y

- Ouais Hasairi | ⵓⵓⴰⵉⵙ ⵀⴰⵙⴰⵉⵔⵉ | أويس الحصائري (@HasairiOuais) October 8, 2020
In this regard, numerous assumptions are expressed: from the fact that the representatives of the UAE thus decided to show "the goods with their face" (before the complex was accepted by Haftar's troops) to a more prosaic one - the complex had to be put on alert during transportation due to the difficult air situation.
The situation for Haftar's troops was really tense two or three months ago, when the phase of the armed conflict was at its most acute. Turkey decided in military and military-technical terms to support the troops of the Government of National Unity (PNU) Fayez Sarraj. One of the types of assistance is drone strikes on LNA positions and equipment. Turkish "Bayraktars" then inflicted hefty damage to the LNA, including damage in the "Shells".
One of the comments to the publication with the video is noteworthy:
I hope they still find the right people trained to use it. It is useless without skills and abilities.