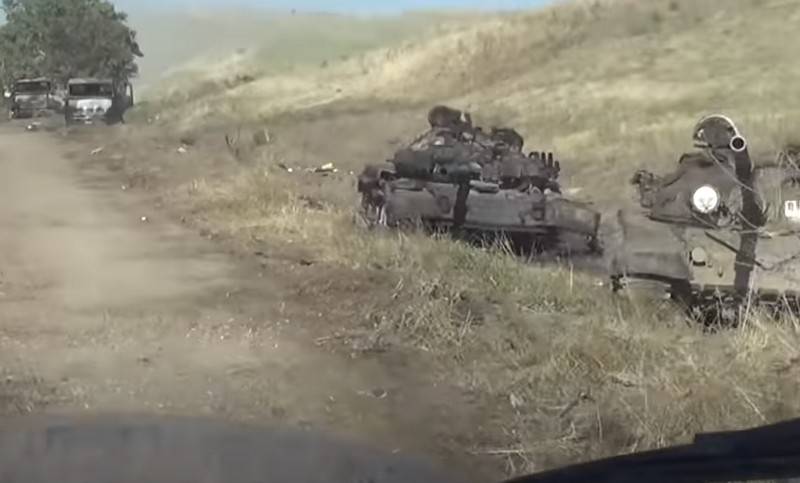 The situation along the entire line of contact in Karabakh remains stably tense, the Azerbaijani army has an operational advantage along the entire length of the front. The Ministry of Defense of Azerbaijan reported this on Monday morning.
According to the Azerbaijani military department, the units of the armed forces of Armenia, violating the humanitarian ceasefire, in order to regain the lost positions, several times in small groups attempted to attack the units of the Azerbaijani army in the Agdere-Agdam and Fizuli-Jebrail directions.
In the course of the past clashes in different sectors of the front, the Armenian army lost a large number of manpower, 3 BM-21 Grad MLRS, 1 T-72 tank and several vehicles. There is information that the commander of the battalion of the 246th regiment, Lieutenant Colonel Artur Grigoryan, is among the numerous losses.
(...) during the combat operations, the chief of artillery of the 9th regiment of the Armenian armed forces, together with the subdivision under his command, retreated from the Hadrut direction, and the personnel of the 5th battalion of the regiment, leaving the military equipment assigned to him in combat positions , escaped. In addition, the personnel of the 5th and 522nd regiments also retreated, leaving automotive and armored vehicles in position.
- said in a statement.
It is also reported that due to a communication failure in the defense sector of the 1st regiment of the Armenian Armed Forces, a firefight took place between the retreating units. The retreat of units of the Armenian army is noted in many sectors of the front. The Azerbaijani army has an advantage along the entire line of contact.
In turn, the Armenian Defense Ministry reports on artillery shelling in the southern direction in the zone of the Karabakh conflict. The press secretary of the Armenian Defense Ministry Shushan Stepanyan stated this.
At night, the situation in the conflict zone was stably tense. Now the enemy is conducting intensive artillery shelling in the southern direction
- she said.