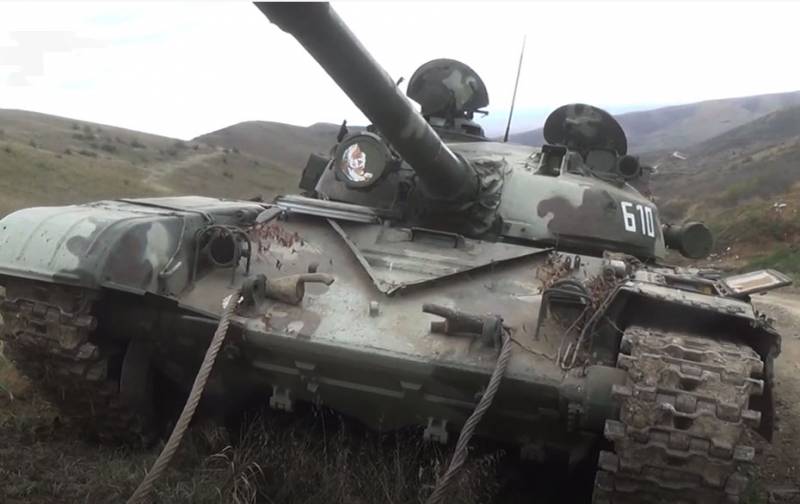 The Ministry of Defense of the Republic of Azerbaijan publishes footage from the village of Talish. This settlement was reportedly taken under its control by the Azerbaijani side. A film crew (a whole bus of reporters) was immediately sent there to shoot the report.
The footage shows Armenian equipment knocked out during the fighting, including
Tanks
... Also shown are unused ammunition for the machine gun, which turned into trophies of the Azerbaijani troops.
The Azerbaijani flags were filmed, which were placed in Talysh by the side that took control of the village.
As you can see, there is not a single person on the streets of Talysh village. Earlier it was reported that many local residents were forced to leave their homes.
Meanwhile, the official representative of the Armenian Defense Ministry Shushan Stepanyan writes that the Azerbaijani army, despite the agreements reached on a ceasefire in the conflict zone, continues to carry out artillery and missile strikes on the territory of Nagorno-Karabakh. At the same time, it was added that if such shelling of settlements continues, the Defense Army of Artsakh (the unrecognized Nagorno-Karabakh Republic) reserves the right to retaliate.
Against this background, the President of Azerbaijan, giving an interview
RBC
, said that in general he positively assessed the ceasefire agreement. Let us remind you that the negotiations took place in Moscow.
According to Ilham Aliyev, Azerbaijan did not go to the point of demanding complete surrender from the Armenian side at the negotiating table. At the same time, Aliyev again stated that the basis should be the withdrawal of Armenian troops from seven regions of Azerbaijan - "first from five, then from two more."