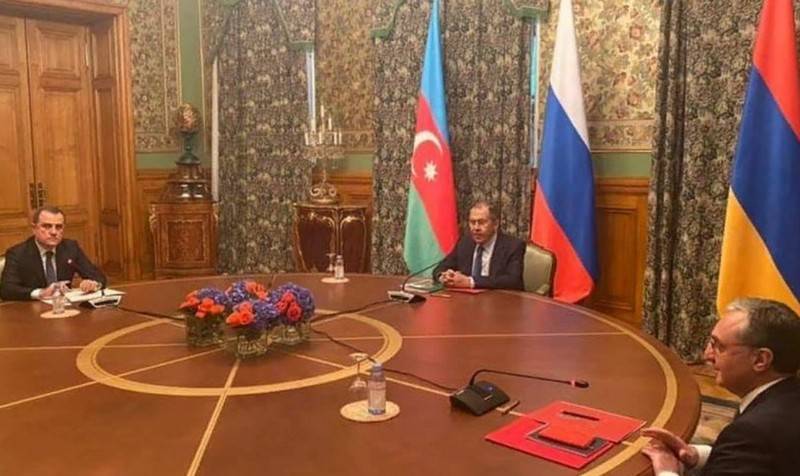 The ceasefire agreement in the conflict zone in Nagorno-Karabakh is temporary and in the absence of progress, hostilities will continue. This was stated by Assistant to the President of Azerbaijan, Head of the Foreign Policy Department of the Presidential Administration Hikmet Hajiyev.
During a press conference on the results of the Moscow meeting on Nagorno-Karabakh, Hajiyev stressed that the ceasefire agreement is temporary and was signed to achieve humanitarian goals. If there is no progress in the negotiations on the withdrawal of Armenian troops from the territory of Nagorno-Karabakh, hostilities will resume.
According to Hajiyev, the goal of Azerbaijan is not a truce, but the restoration of its territorial integrity. He noted that the first stage of the peace enforcement operation in Armenia ended successfully.
(...) Azerbaijan, as a responsible member of the international community, taking into account numerous appeals, accepted the offer to participate in the negotiations in Moscow
- he added.
In turn, President of Azerbaijan Ilham Aliyev stated that he positively assesses the results of the talks between Baku and Yerevan in Moscow on the conflict in Nagorno-Karabakh. According to him, after the ceasefire, the parties will begin substantive (independent of external factors - approx.) Negotiations.
Meanwhile, on Saturday, Russian Foreign Minister Sergei Lavrov held telephone talks with his Azerbaijani and Armenian counterparts Jeyhun Bayramov and Zohrab Mnatsakanyan on the situation in Nagorno-Karabakh. Both sides reaffirmed their commitment to the ceasefire agreements.
Despite this, the Armenian Foreign Ministry accused Azerbaijan of continuing hostilities on different fronts, in violation of its obligations. Yerevan regarded Baku's actions as a breakdown of the ceasefire agreement. The president of the unrecognized republic of Nagorno-Karabakh Arayik Harutyunyan stated the same. According to him, Azerbaijan staged "genocide of the Armenian people."
Armenian Prime Minister Nikol Pashinyan appealed to the world community with a request to recognize the right of Karabakh to self-determination.
The world must recognize the right of Artsakh to self-determination. If governments and parliaments do not do this, peoples, individuals, organizations can do it. It should become a worldwide movement uniting such individuals, peoples and organizations
- he said, stressing that this should be the business of the people living in this territory.
Thus, on the second day of the truce, Baku is ready to continue the war, Yerevan asks to recognize Karabakh, although both Baku and Yerevan are in favor of negotiations. At the same time, the parties continue to accuse each other of violating the agreement. Azerbaijan's position is fully supported by Turkey and Pakistan, both countries are in favor of the complete "de-occupation" of the territory of Nagorno-Karabakh.
The world media mainly speaks only of the reached agreements on a ceasefire, and also "expresses confidence" that this will be "the first step towards peace."