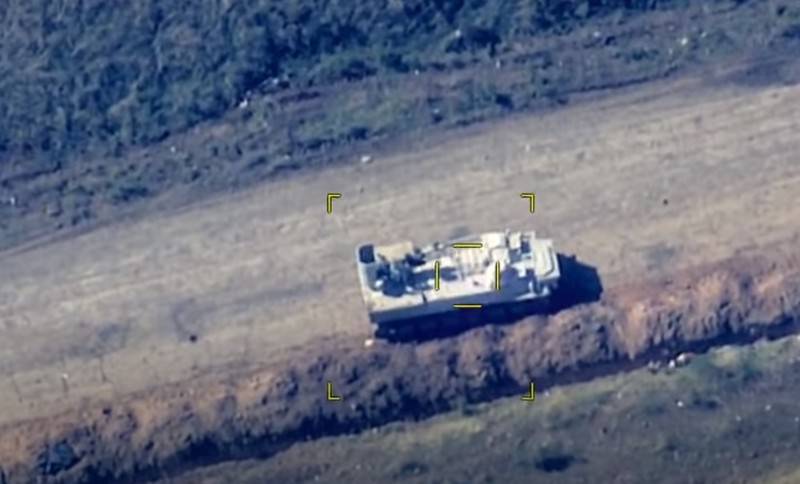 Ministry of Defense of Azerbaijan continues to publish video of destruction of armaments and equipment of the Armenian army
aviation
... The videos are posted on the official channel of the Azerbaijani military department on YouTube.
The Ministry of Defense of Azerbaijan reports that the first two videos show the destruction of military equipment of the Armenian army, which violated the ceasefire agreement that entered into force on 12 October 00. In the first video, a drone strike on artillery positions is shown, in the second, an MT-LB with installed anti-aircraft guns ZU-10 and M-2020 of the Armenian Armed Forces is under attack.
Social networks state that all equipment and weapons in this video were destroyed with the help of Bayraktar TB2 drones (Standard Bearer - tur.), Purchased by Azerbaijan from Turkey. It is possible to use kamikaze drones, also massively purchased by Baku and used during the military conflict in Nagorno-Karabakh.
The third video shows the destruction of enemy heavy armored vehicles. The Azerbaijani military say that an entire armored unit of the enemy was destroyed. Where the strikes were struck was not reported.
Note that the massive use of unmanned aerial vehicles by the Azerbaijani army to destroy enemy armored vehicles and weapons in the absence of air defense systems capable of shooting them down, causes significant damage to the Armenian army. American experts believe that Azerbaijan did not follow the path of the United States, which uses UAVs to deliver pinpoint strikes, but began their massive use by purchasing kamikaze drones from Israel and shock drones from Turkey.