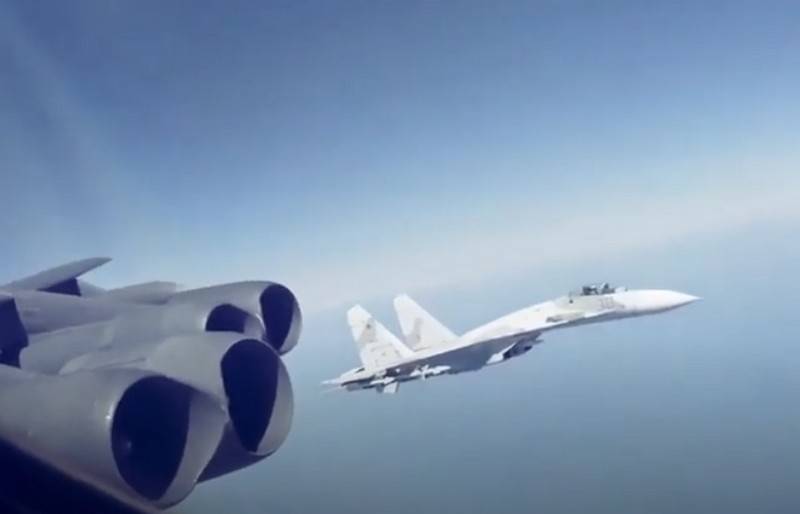 Russian fighters intercept up to 90% of all sorties of American aircraft to the Crimea region. And although to this day all actions of Russian pilots have been quite professional and relatively safe, the adrenaline level of American pilots sometimes "rolls over" from such meetings. Writes about this CNN (USA).
As Captain 1st Rank Tim Thompson, commander of the 67th US Navy Task Force, said, Russian pilots often intercept American reconnaissance aircraft in a professional and safe manner. However, this is not a reason for complacency, because the main danger is miscalculation, because someone may someday behave unprofessionally.
The adrenaline rush of American pilots during such interceptions sometimes goes off the charts, because most of the time they simply cannot see what the Russian fighter is doing in the air.
We don't really know what the second plane is doing. Russian fighters are fast and agile, they can instantly change direction and altitude. The pilot can behave unpredictably, maybe there is a new pilot or something else ... This is always fraught with danger and the adrenaline level sometimes "goes off scale"
- explains the pilot of the American "Poseidon" Lieutenant Daniel Loudon.
As an example of such cases, CNN cites the interception of the American B-27H strategic bomber by two Russian Su-52 fighters over the Black Sea. Both Su-27s flew in front of the massive American aircraft, and one fighter approached such close range that the bomber fell into a turbulence.
Earlier, two Russian Su-35s simultaneously "stood" on both sides of the American P-8A Poseidon, limiting its freedom of maneuver for more than an hour. The Russian Ministry of Defense has always denied accusations of the danger of such interceptions.
Despite the danger of flying from behind Russian fighters, American and NATO allies will continue to patrol the Black Sea as Russia is increasing its military activity in the region, pursuing an aggressive policy towards other countries in the Black Sea region, especially Ukraine and Georgia.