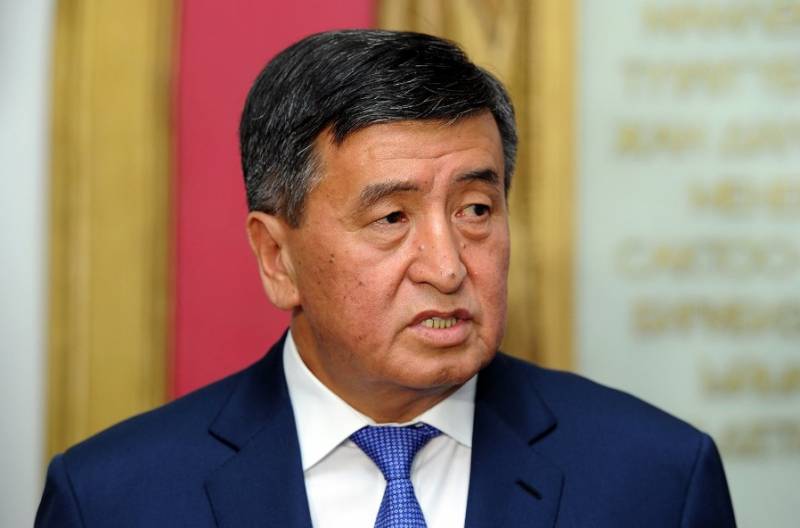 Kyrgyz President Sooronbai Jeenbekov signed a decree on the introduction of a state of emergency in Bishkek. It will run from at least eight in the evening on October 9 to eight in the morning on October 21 local time.
The decree was published on the official website of the President of Kyrgyzstan.
At the same time, the General Staff of the Armed Forces of the republic was instructed to bring military personnel and equipment to the capital to organize checkpoints in Bishkek. The introduction of a curfew is also reported. This measure is intended to protect the life and health of the population, as well as to stabilize the situation in the city.
For the duration of the state of emergency, the deputy head of the Ministry of Internal Affairs of Kyrgyzstan Almazbek Orozaliev was appointed commandant of Bishkek by presidential decree.
The situation in Bishkek and the republic escalated after the announcement of the parliamentary elections, which took place on October 4. As a result, four out of 16 active parties in Kyrgyzstan were elected to parliament. After that, protest actions and seizures of administrative buildings began. Among others, the buildings of the country's government, parliament and presidential administration were seized.
As a result, the CEC made a decision to recognize the results of the parliamentary elections as invalid. Prime Minister Kubatbek Boronov resigned from his post. President Sooronbai Jeenbekov, despite the demands of the protesters, refused to resign.